Protesters and Rioters were storming the U.S. Capitol Building earlier this January, in retaliation after Joe Biden's presidency was being certified by the Congress.
What happened after that, was vandalism, numerous arrests, and the deaths of five people.
Knowing the chaos these people have made, the U.S. Transportation Security Administration (TSA) has added a lot of those rioters to a nationwide no-fly list, with more of them are added as they are identified.
And not just that, as dating apps have also agreed to ban those people from their respective platforms.
From Tinder, Bumble, Hinge, PlentyofFish and OkCupid, these dating apps use photos captured during the incident to identify the rioters, to then ban them.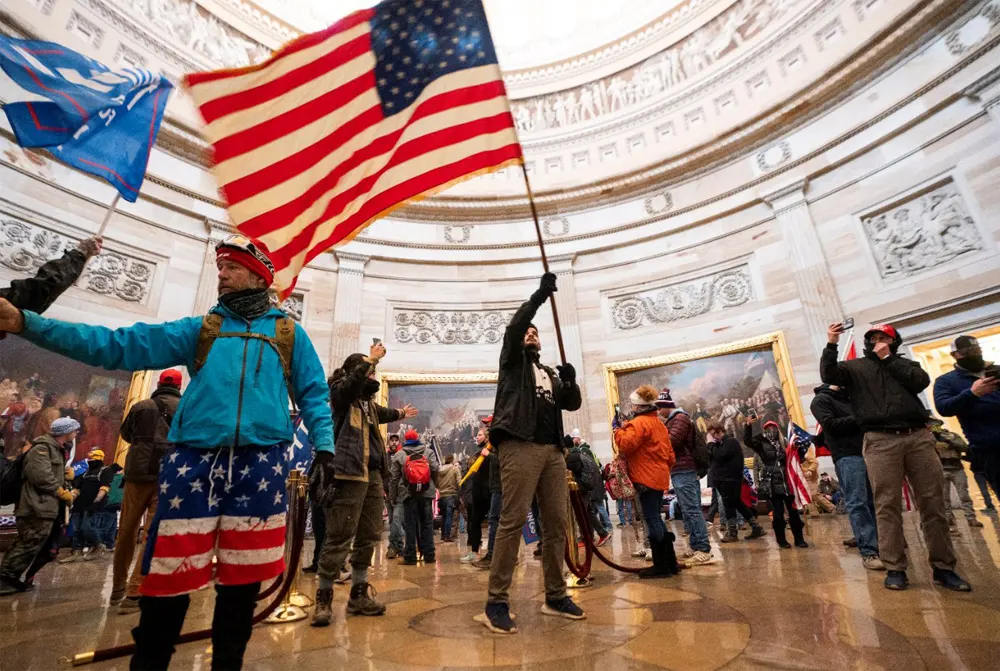 Rioters in the U.S. Capitol's rotunda after breaching the building on January 6, 2021. (Credit: EPA)
In a statement, Vidhya Murugesan, a spokesperson for Match Group, which owns Tinder, Hinge, PlentyofFish and OkCupid, said that:
"We have, and will continue, to ban any users wanted by the FBI in connection with domestic terrorism from all of our brands, and we always cooperate with law enforcement in their investigations."
Reports also said that users are also joining in to help the platforms and the authorities, as many of them are swiping through profiles, and even matching with people who claim to be involved in the storming just to gather evidence.
Many of the rioters consider their storming a heroic act.
As a result, many of them are bragging their deeds on their profiles and in chats. They may put statuses, create Stories, upload videos, make profile pics and so forth.
A few liberal users are even changing their preferences and profiles to match with conservatives and gather more information.
And people are turning over this data to the authorities, so they can catch them.
Bumble that was founded by Whitney Wolfe Herd, was found temporarily removing its political-identification filter to prevent "misuse."
The move came after women on its platform tweeted on Twitter about using the filter to find rioters who took part in the Capitol breach, and make use of their data as evidence to the authorities.
Following the temporary removal, people on Twitter criticized Bumble because it appeared that it was protecting the rioters.
However, Bumble defended itself, saying that it has by itself, removed the accounts of people who had been "confirmed as participants in the attack of the US Capitol."
What's more, the company is encouraging users to block and report people who are violating its terms, adding that its algorithm is already capable of scanning profiles to detect "content that promotes the insurrection or related activities."
This way, it can flag the users and remove them.
It should be noted that in Washington D.C. where the Capitol Building resides, 92% of the voters voted for President-elect Joe Biden in the 2020 election, making pro-Trump profiles isn't necessarily common.
Read: Donald Trump, The First Country Leader Permanently Banned From Twitter