Both DC and Marvel Comics are comics publishers that employ many artists.
While each and every one of them have their own styles of illustration and drawings, they all work to portray superheroes to the imagination of fans through their artworks.
And in the days where artists can sell their artworks as NFTs (Non-Fungible Tokens) for quite a lot of money, some DC and Marvel artists have started selling their artworks to fans to the blockchain for a price, making their employers unhappy.
The two comics titans are cracking down on the ability of their comic book artists to sell NFTs of characters owned by each of those two companies.
Comic book artists argue that they have always been allowed to sell their artwork. However, the two companies said that artists are always allowed to sell their physical artworks, and not digital.
What's more, both DC and Marvel noted that the tradition of comic book artist being allowed to sell their original physical artworks are limited to works on pencil and ink arts, and have only existed as a "gift," of sorts, by the companies, and not a right.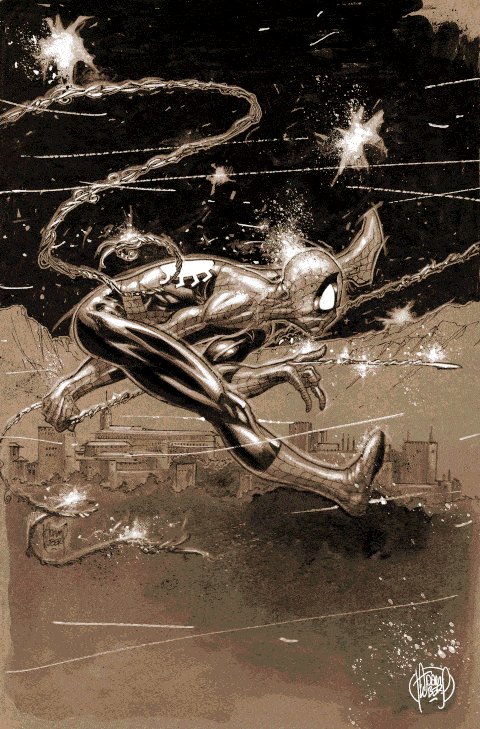 The 'NON-STOP SPIDER-MAN #1 - RARE VARIANT COVER' that goes on sale as an NFT. (Credit : Adam Kubert)
After all, that was the result of the industry activism in the early era of superheroes that was putting artists at the winning side, allowing thme to sell their finished pages to fans as collectibles after the publishers put out the comics.
NFTs are digital artworks. So both companies think that both cases are not comparable.
This is why both DC and Marvel aren't liking their artists to make money from selling digital drawings of their characters as NFTs.
To prevent their artists from selling their artworks, the two big comic book companies are sending letters to the artists, asking them not to sell their digital original art because they are copyrighted. They are also sending DMCA's ( Digital Millennium Copyright Act ) to selling platforms to stop them from selling the art.
DC for example, wrote that:
"As DC examines the complexities of the NFT marketplace and we work on a reasonable and fair solution for all parties involved, including fans and collectors, please note that the offering for sale of any digital images featuring DC's intellectual property with or without NFTs, whether rendered for DC's publications or rendered outside the scope of one's contractual engagement with DC, is not permitted."
Some of the artists that were found to sell their artworks as NFTs, include José Delbo, a former Wonder Woman and Transformers artist who sold a number of NFTs (mostly involving Wonder Woman) in exchange for cryptocurrencies worth nearly $2 million.
Delbo described his artwork as "a signed and limited edition digital creation. You're purchasing the full non-commercial rights to this creation. Upon purchase, this creation will be transferred to your digital wallet. If you don't have one, we'll provide one for you. You may download the full-sized creation to display or even print for personal use."
Following the displeased comics titans, Delbo still sell his artworks as NFTs, but of an original superhero creation of his, instead.
Another artist from Marvel, is Mike Deodato, who has worked on projects like Thor, Hulk, Wonder Woman, Amazing Spider-Man, New Avengers, Thunderbolts, Astonishing X-Men, Infinity Wars and Savage Avengers. He too was selling his artworks as NFTs, including the cover to Amazing Spider-Man Family #2.
"So, let me get this straight. If you are a traditional comic book artist you can sell your original art on paper. If you are a digital comic book artist you are not allowed to sell your digital original art. In both cases, there is no copyright involved. In both cases," said Deodato wrote an open letter.
"So why digital comic book artists are being deprived of their rights? Isn't a pandemic destroying economies and making people losing their jobs bad enough?"
José Delbo's own superhero, the Satoshi The Creator. This artwork was on sale as an NFT. (Credit : José Delbo)
NFTs are digital artworks put inside a blockchain. In other words, it only allows the purchaser to buy original work of art by an artist that is simply a digital artwork rather than a physical drawing.
Artists and non-artists have sold many things through NFTs, some earning lots of money.
Beeple is one example. He managed to sell his artwork as an NFT for an astonishing $69 million.
And in this case, artists that work for both DC and Marvel also want their work to be sold through the technology for a living.
Many of them are contractors who don't receive health benefits, and have struggled for decades for greater recognition and creative rights.
"It's tough to make a living doing comic book art," said Jimmy Palmiotti, a comic publisher, writer and artist who has worked for Marvel and DC Comics.
"There's no union. There's no retirement. There's no parachute. You have to constantly hustle. The companies know there's a ton of talent all over the world willing to draw comics for next to nothing, and they're willing to take advantage of it."
Both DC and Marvel have made billions by dominating the comics.
The two have made tons of money by marketing the images of the superheroes to millions of fans through comics and movies as well as toys, T-shirts and video games. They argue that they have the very rights to own the characters, like Batman and Wolverine, and want to protect their rights because of that.