There a lot of devices that can be used to browse the web. But as an increasing number of people are switching their desktop and laptop computers for a mobile device, more of the web activities come from people using gadgets on their hands.
According to data from Pornhub, the biggest free pornography site founded in 2007, its annual data review reveals that 76.6% of users consume porn via their phones.
For comparison, that is a 5% increase if compared to 2018's 71.6%.
Putting that into perspective, iOS devices accounted for 52.8% of all mobile traffic, with Android in second place with 46.6%.
And here, Apple iPhones, in general, have become the world's preferred streaming devices to visit Pornhub, snatching the title from Android.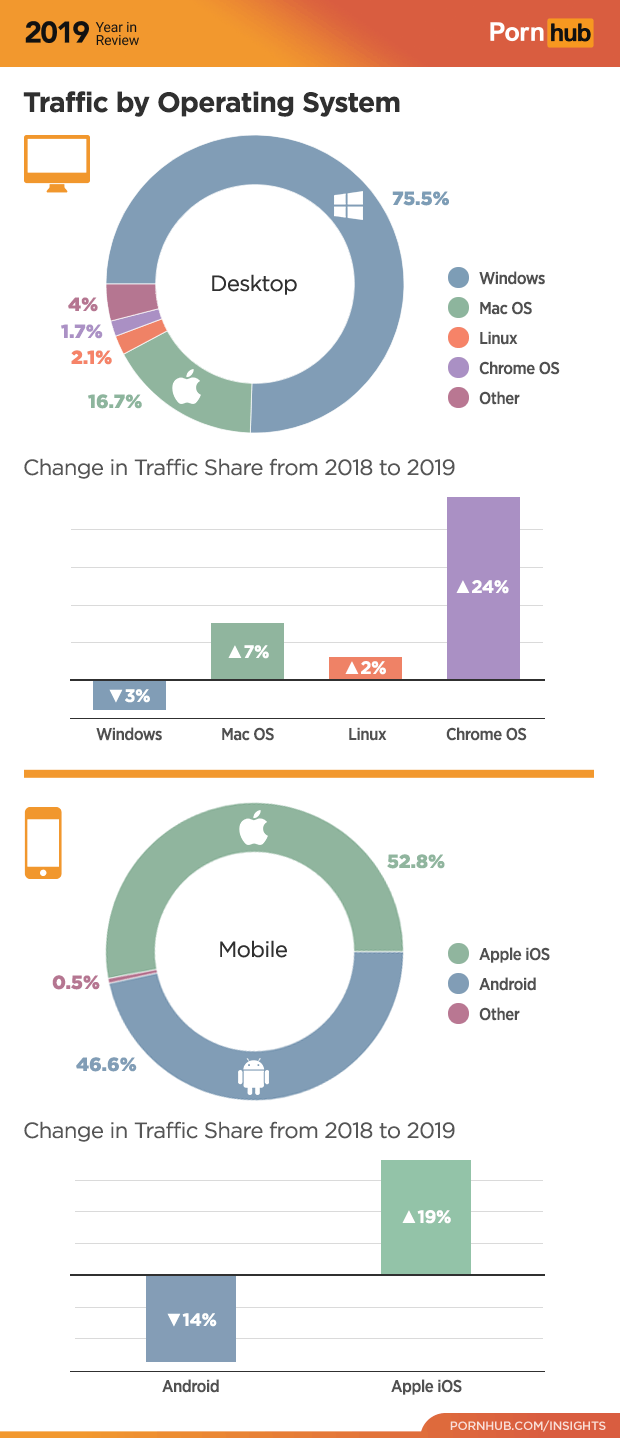 Credit: Pornhub
Going more specific, Pornhub found that Google Chrome is the most favored with nearly 45% of viewers using the browser.
Microsoft Internet Explorer comes second at 23%, just slightly ahead of Firefox. Internet Explorer users spent the longest amount of time on the website, clocking in at a 10 minutes and 30 seconds for desktop users.
Safari saw it's share gain 13%, while Internet Explorer's share dropped by 13%, and Microsoft's more modern Edge browser grew by 9%.
"When we looked at traffic coming from mobile devices, we were surprised to see that Apple iOS had overtaken Android OS this year, with Apple growing by 19% to make up 52.8% Pornhub's mobile traffic," said Pornhub on its 2019 Insights.
"Unbelievably we do still have daily visitors from Internet Explorer 5 looking for a porn fix,'" Pornhub said.
As for mobile browsers, Chrome and Safari were nearly equal at 44.3% and 41.6% of traffic respectively. Both mobile browsers saw their share increase in 2019 as other mobile browsers like UC and Opera decreased significantly.
Credit: Pornhub
Back in March 2018, in an interview with MSNBC, Tim Cook said that he knows what some people do with their iPhones, and he's not going to stop them.
The Apple CEO said that people can use their iPhones to browse whatever they wish, and porn as one of them, is no exception. However, they shouldn't expect Apple to start offering apps related to porn.
This is a change of tone from his predecessor and mentor, Apple co-founder Steve Jobs, who used to suggest the company had a moral duty to "keep porn off the iPhone".
"We're like the guy on the corner store. What you sell in that store says something about you, and if you don't want to sell that other thing, you don't sell it," said Cook. "It doesn't mean that you can't use an iPhone to go to your browser and go to some porno site, if you want to do that…I'm not making fun of it! But I'm just saying that it's not what we want to put in our store. We want kids to go to the store, right, because kids – there's a lot of learning, education apps in the store. And so, we've always done that."
While Cook indeed said that Apple's policy hasn't actually change, but he is more liberal and relaxed about iPhone owners looking at porn.
What should be noted is that, at every Apple Special Event, which is streamed live once every year, causes a big traffic drop on Pornhub, in particular from people watching on their Apple based devices. During the event where Apple introduced iPhone 11 series for example, iOS traffic to Pornhub dropped by -15%.