The 2019 Indonesia's Presidential Election on April 17th, 2019, is to vote for either Joko Widodo and Ma'ruf Amin, or Prabowo Subianto and Sandiaga Uno.
For the first time in Indonesian history, the President, the Vice President, and members of the People's Consultative Assembly (MPR), were elected on the same day, with over 190 million eligible voters. This makes the event the world's largest single-day election.
While social media networks have long been known to be the places where fake news and misinformation thrive, the same goes for Indonesia and its election.
Starting about a year before the election, fake news surged and kept on increasing in numbers. Supporters of different candidates may be trying to spread misinformation to attempt public opinion engineering.
The effect is massive, as about half of the country's 262 million people use Facebook, and 62 million people are active on Instagram. Indonesians also spend a lot of time online. People in the country use platforms like Facebook, Instagram and WhatsApp for an average of three hours and twenty-six minutes a day - the fourth highest rate of social media usage in the world.
But activists, too, use social media to make the election more transparent.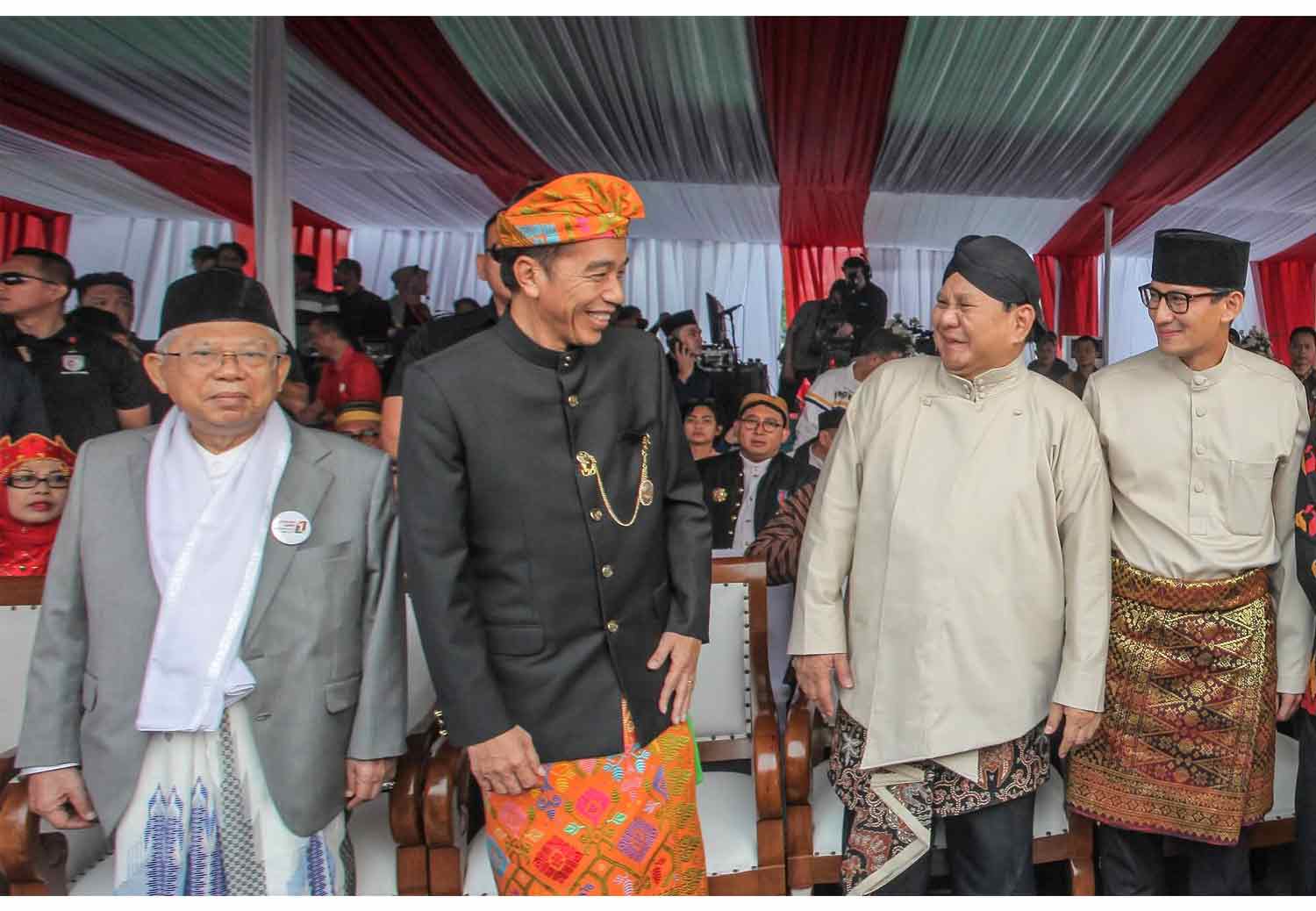 (left to right) Ma'ruf Amin and incumbent President Joko Widodo, Prabowo Subianto and Sandiaga Uno
Avid social media users and many other volunteers are trying their best to make the election process at least a bit more transparent. They are trying to straighten up misinformation, especially hate speech towards religion, ethnicity and the candidates' past.
In Indonesia, Islam is the majority of the population.
This is where minority groups have faced several inflammation of ethnic and religious tensions. Although the constitution guarantees religious freedom, hard-line groups often target other religions in the country.
Authorities have taken note of the divisive content infecting their country's social networks.
In late 2018, when the country was preparing for its grand day, the Indonesian government started holding weekly briefings to debunk online hoaxes and to promote digital literacy. Police have arrested dozens of netizens for spreading falsehoods online, and platforms like Facebook, which owns WhatsApp and Instagram, are attempting to stymie election interference.
In early March, the social media giant announced that it had removed thousands of fake accounts from its platform, and that foreign electoral ads would not be allowed ahead of voting.
The groups of volunteers here, are non-governmental. And they are joining the fight against fake news, before the election day, and also after, to preserve transparency, and help citizens that sought clarity on the election results.
The organization provided quick updates, working independently alongside the country's electoral commission to announce the official winner.
The extensive data published by Kawal Pemilu, for example, which teamed up with almost two dozen media outlets to form a coalition, was also the first time that social media and technology played an important role in monitoring the election process.