Microsoft with Xbox and Sony with PlayStation are two archrivals that have spent almost two decades fighting each other for dominance in the $38 billion video game console market.
But with the internet growing to consume more of people's time, cloud computing is becoming more common.
Both Microsoft and Sony have already delivered digital games through their respective subscription services. And going forward, the two companies want to deliver games via streaming service using cloud computing, just like how Netflix does with movies, for example.
In the collaboration, the two companies want to develop an improved cloud delivery for games and other contents, as well as delivering Sony's available services using Microsoft Azure. The two companies are also focusing on developing smart image sensors by combining Sony's sensor capabilities and Microsoft's AI technology.
Negotiations with Microsoft began in 2018, and were handled directly by Sony's senior management in Tokyo, largely without the involvement of the PlayStation unit, according to people familiar with the matter.
And to mark the move, Microsoft is initiating a public testing for its Project xCloud game-streaming service.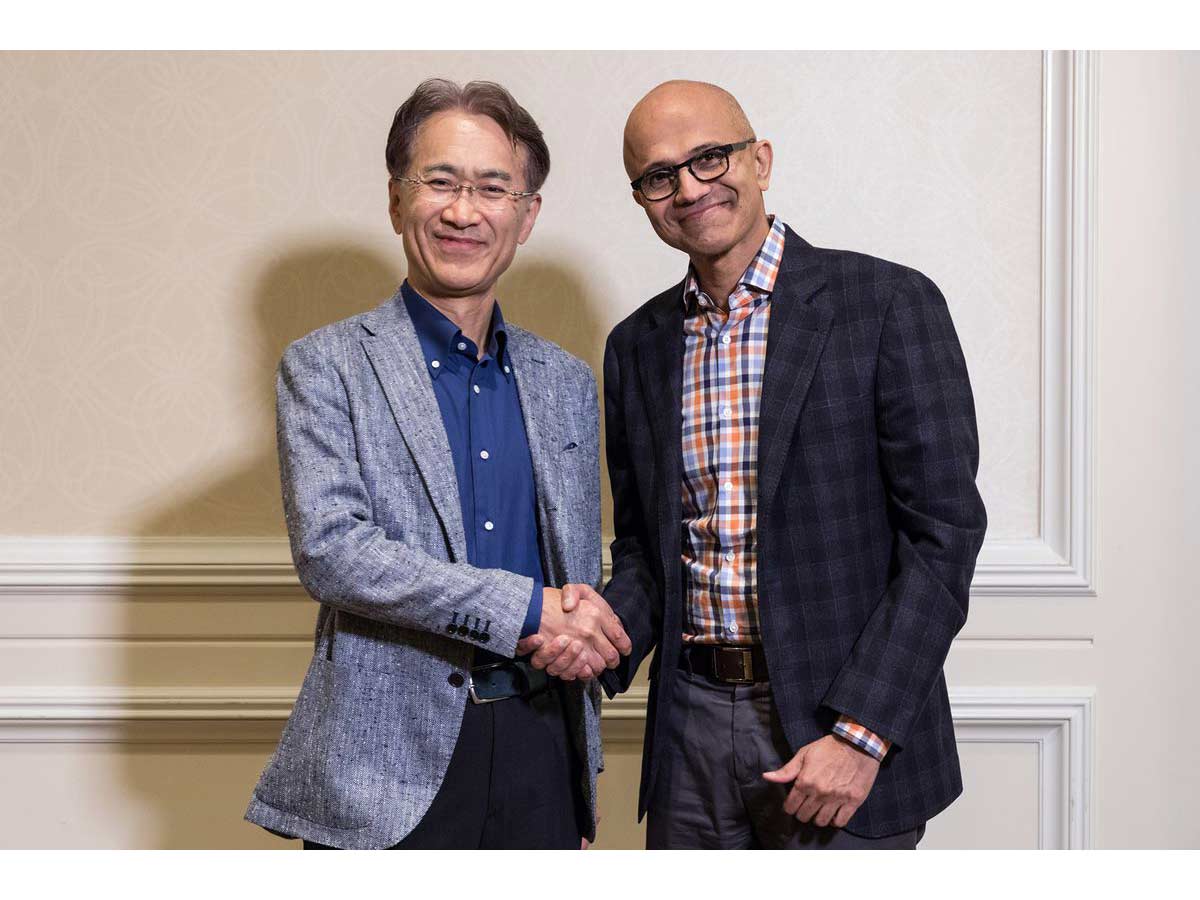 Sony CEO Kenichiro Yoshida and Microsoft CEO Satya Nadella
"Sony has always been a leader in both entertainment and technology, and the collaboration we announced today builds on this history of innovation," said Microsoft CEO Satya Nadella. "Our partnership brings the power of Azure and Azure AI to Sony to deliver new gaming and entertainment experiences for customers."
"PlayStation itself came about through the integration of creativity and technology," Sony president Kenichiro Yoshida said in the announcement.
"Our mission is to seamlessly evolve this platform as one that continues to deliver the best and most immersive entertainment experiences, together with a cloud environment that ensures the best possible experience, anytime, anywhere. For many years, Microsoft has been a key business partner for us, though of course the two companies have also been competing in some areas. I believe that our joint development of future cloud solutions will contribute greatly to the advancement of interactive content."
By working together, the two companies aim to provide more enhanced entertainment experiences for their customers worldwide, including building better platforms for content creators, the companies said in a statement.
What can happen when games shift from console and discs/cartridges is that, players could play nearly all games together against friends, even if their friends have different game systems or consoles.
True cross-platform play means that games could play one game across an Xbox, PlayStation or smartphone, wherever they are and whenever they want. With the cloud, games could save their progress of the game, regardless of the device.
This creates an ecosystem where games are becoming more public, more seamless, more integrated, but with less friction.
This cross-platform ability has begun to be more prevalent, with examples include popular game 'Fortnite' which is playable on Xbox, PlayStation, Nintendo Switch and mobile devices.
And with the improved speed and the reliability of the internet, games can also be played remotely without the need for an actual local machine.
As a result, gaming companies can add even more ads to their products.
Traditional games that are offline, gave advertisers very little opportunities due to the fact that the games could not be updated in real-time. But with streaming games in the cloud, advertisers can have the opportunity to create ads and target them to specific users, for example.
Advertisers can also align their campaign to ultimately use techniques such as audience targeting pervasive to reach games in other platforms.
With evolving hardware and innovative sensors, this can also open new ad formats previously not possible.
Microsoft and Sony aren't the only two wanting to enhance gaming experience.
Google, for example, has plans to launch its Stadia cloud gaming service, and Electronic Arts is working on its own streaming service, too. Amazon, which owns the Twitch video game streaming platform, is said to have developed its own game streaming service as well, and so does Chinese internet company and game maker Tencent.