The internet has disrupted the adult entertainment industry, and has literally killed Playboy.
The technology created a world where the competition is literally high, proving to be difficult for some professionals in the adult industry. But for those who aren't "professionals," the internet is giving "amateurs" a way to compete better with their professional peers, and even make a lot of money along the way.
The industry can be alluring, and even challenging, that some have to even violate the laws the country they are in, in order to reach that success and fame.
And in Indonesia, a woman that goes with the name Siskaeee was one of them.
The woman is no stranger to performing sexually in front of strangers on the internet. In fact, she has accounts on several social media platforms, as well as on a number of adult websites, and has been doing her adult work for quite some times.
Despite her internet popularity, the general public in Indonesia was mostly unaware of her real actions, until the police arrested her after one of her videos went viral.
In the video (cropped and muted), she is seen flashing her breasts in an exhibitionist act, and masturbated in an international airport.
Siskaeee in an interview with Gofar Hilman, a radio presenter (left), and a screenshot of Siskaeee in her exhibitionist act that went viral (censored, right).
Siskaeee, or also known as Siskaeee E Nya Tiga (otherwise known by her initials FCN) performs on OnlyFans, a platform popular where entertainers in various industries, as well as those in the adult industry, can earn money by selling their contents to their subscribers.
The video that went viral showed her fondling her breasts and engaging in a sexual act on the second floor of the Yogyakarta International Airport (YIA) in Java, Indonesia.
In the short video, she first flashed both of her breasts, before lifting up her skirt to expose her genitals, showing them all on full display to the camera.
A number of passengers can be seen walking behind her while she was at it.
Additionally, just like most exhibitionists' acts, Siskaeee who had her face mostly covered as she donned sunglasses and a mask, would occasionally look to check whether anyone had noticed her actions.
It didn't take long until the video spread quickly on the internet, and grabbed the public's attention.
Unfortunately for the woman, the virality of her video also caught the police's attention.
After identifying the woman, the police took Siskaeee into custody on December 4th, shortly after she arrived at Bandung Station in the afternoon.
At that time, Siskaeee was seen sporting a blue jacket and blue denims.
Investigators who secured Siskaeee's belongings, took away her laptop and smartphone, U.S dollar bills, gold, a wig and a camera, as well as leather boots, a bondage whip, and others.
Also included in her belongings, is a 600GB harddisk drive that contains many of her sexually explicit content.
Siskaeee (sitting) when she was arrested in Bandung, shortly after getting off a train.
Siskaeee's belongings that include BDSM items and more.
Indonesia is a Muslim-majority country, and the laws forbid anyone from doing pornographic acts and distributing them.
Called the Bill against Pornography and Porno-Action (Indonesian: Rancangan Undang-Undang Anti Pornografi dan Pornoaksi), sometimes translated as Bill against Pornography and Pornographic Acts, was originally proposed by the Indonesian legislative assembly on 14 February 2006, only to be reintroduced in 2008 as the Bill on Pornography.
The bill states that anyone engaging in pornography and pornoaction is punishable by law, pornoaction being an invented word that means "actions deemed indecent."
While the bill received backlash for negative reactions from many people in the country, the officials who were backed by a number of Muslim religious leaders support it.
And this time, Siskaeee is sued by PT. AP 1 as the manager of YIA, and is being charged based on Indonesian laws concerning pornography and electronic information and transactions (ITE).
She was accused after the airport staff noticed the video, and saw the newly-installed road sign to conclude that the video was taken at least in October. The accusation pointed out that "she had planned the sex act in advance" because she was at the airport without wearing any undergarment.
The airport that claims to maintain "high security and this kind of vulgar behavior is not allowed."
Based on the allegations against her, the OnlyFans model can face up to 12 years in prison, with an additional 6 years, and a fine of Rp6 billion (~$400,000).
It should be noted that the exhibitionist video isn't Siskaee's only public sex act video.
Besides Siskaeee who confessed to doing several more exhibitionist acts in other locations in Yogyakarta, on her OnlyFans account, it is known that she has at least uploaded 227 posts and 399 media files to the platform.
Among the content she made, include videos of her acts in a supermarket, a dressing room, in a hotel hallway, inside a bus, a train, in nature, and more. There are also alleged videos showing her purportedly pranking ridesharing drivers into engaging in sexual activities with her.
Siskaeee also confessed that she used 7 different adult websites for her work.
Read: IKEA Under Fire After Video Of A Woman Masturbating In Its Store Went Viral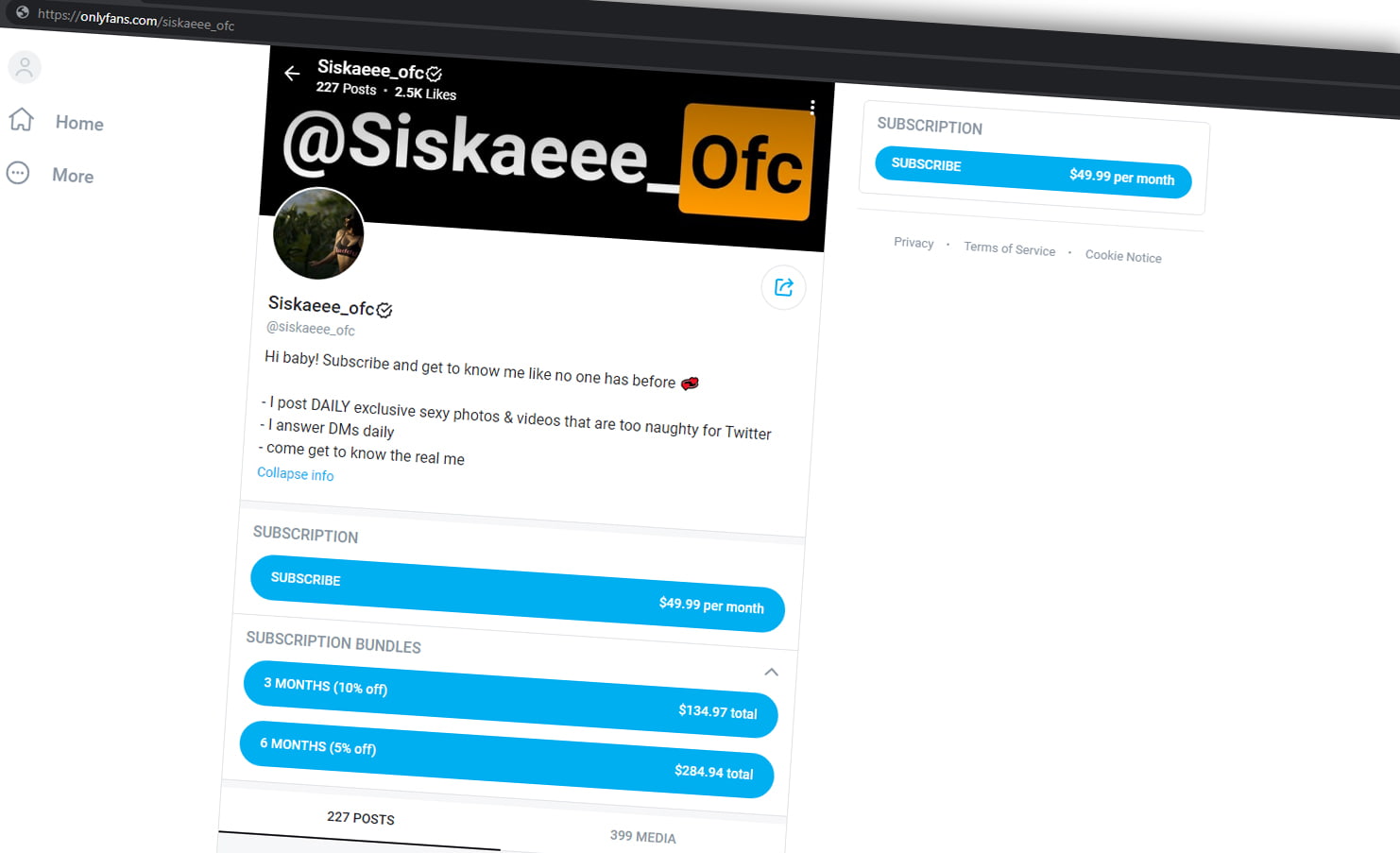 Siskaeee's profile page on OnlyFans.
"I have many fans," Siskaeee once said on a radio interview earlier this 2021. "They are mostly men. They recognize me when I am outside. My life is quite nomadic and I travel around a lot to different places. There was even a guy who introduced me to wearing a mask."
In an interview with Gofar Hilman, Siskaeee admitted that she isn't a commercial sex worker. She said that she declined many men's offer who wished to sleep with her. Instead, her pornographic acts were meant to express and show a different side of her that cannot be shown through her original social media profile.
Following her arrest, the police who had Siskaeee undergo a psychological test to determine if she has a behavioral disorder, found that she experienced a past trauma.
"After we investigated the person with a psychologist, the person in question experienced past trauma which caused her to have deviant behavior by exploiting weaknesses or being negative with industrial technology developments," said a police spokesperson.
"Past trauma can take various forms that give rise to behavioral reasons. There must be a motive behind a criminal act," he continued, without specifying the incident that triggered Siskaeee's trauma.
The spokesperson went on to explain that Siskaeee, who is later revealed to be 23-year-old Fransiska Candra Novitasari, has a deviant behavior that is also financially motivated.
Based on the police's investigation, Siskaee earned a net income of more than a billion rupiahs (~$70,000) through uploading her photos and videos to paid online platforms, earned in the period between March 2020 and December 2021.
According to Jatu Anggraeni, the psychologist who examined Siskaeee, the exhibitionist act was also carried out to achieve sexual satisfaction, and getting response from someone.
Following her arrest, Siskaee became a trending topic on the internet, most notably on Twitter.
Read: 'Briptu Christy', And How Her Alleged Sex Tape Left Social Media In A Frenzy