IKEA is a Swedish-origin Dutch-headquartered multinational group, known to design and sell ready-to-assemble furniture, kitchen appliances and home accessories, among other useful goods and occasionally home services.
Having stores in many countries around the globe, each of its store is family-friendly.
Famed for its minimalist and modern furniture, its iconic blue shopping bag, and of course, its meatballs, IKEA has been one of the places for families to spend their weekend when looking for something to decorate their homes.
However, that fact has somehow ruined, when a woman was shown masturbating on several IKEA furniture in different positions.
The young woman who appears to be in her early 20s, was wearing only a long-sleeve white shirt. While another person who was with her was filming her, she began by unbuttoning her shirt to touch herself inappropriately.
First on a chair, without underwear, to then continue on a bed, before eventually removing her shirt to go fully naked.
Throughout the clip, regular shoppers can be seen walking past her, somehow unaware of what was happening. At certain points of the clip, her genitalia was recorded close up, again with no one realizing.
The video has been viewed and shared by millions of times through social media networks, before IKEA realized it.
The woman flashed, and touched herself inappropriately, before finally removing her skirt.
The full video which is roughly 16 minutes long went so viral that IKEA had to release a statement on May 9, saying that it "resolutely opposes and condemns this kind of behavior" and urged shoppers to "browse stores in an orderly and civilized way."
The furniture company did not say anything about the identity of the young woman, when exactly the video was taken, and in which of its stores.
Some people however, speculated that it happened in China, considering that the video was initially spread through the Chinese social media Weibo.
What's more, the woman in the video was heard speaking Cantonese, a common language spoken in Southern China, further suggesting that the location was at the Chinese province of Guangdong.
Other netizens noted that patrons were not wearing face masks in the video, suggesting that it may had been filmed before the 'COVID-19' coronavirus pandemic.
IKEA said that it will be "more careful" when it comes to security and public cleanliness, and said that it will be improving its security to prevent something similar from happening again.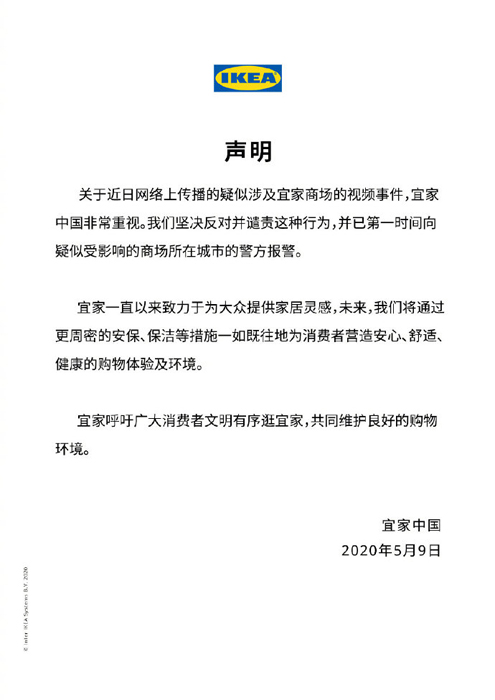 IKEA's released statement regarding the woman.
In China, nudists that include this kind of public nudity, intentional or not, may warrant a detention of 5 to 10 days, while those who upload and disseminate obscene content online can face up to 15 days detention and a maximum fine of ¥3,000.
And according to a Beijing-based legal expert, the woman pleasuring herself in the IKEA video may face a three-year prison sentence for disturbing public order or assembled pruriency.
The clip "severely violated socialist core values," said the Chinese Cyberspace Administration.
While the video has been taken down from China's Weibo, many netizens who took screenshots of it, continued to share and spread it.
The video has also been shared on various adult websites.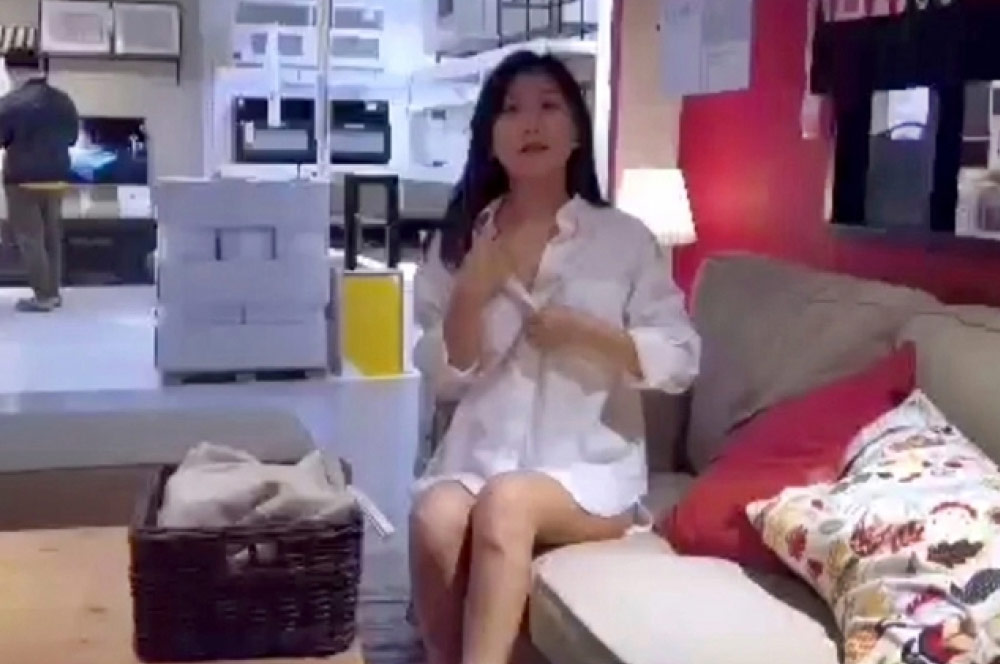 The woman masturbated in public, even when there were people around near her.
There are many times that people do engage in sexual activities in public places, in China or elsewhere around the globe, and documented them.
In one way or another, many of the images and videos were uploaded to the web, meaning that the internet will not experience a shortage of them.
But it's not very often that videos like these caught the attention of the media. This can happen because the videos went so viral that they can damage a brand's reputation and name.
One previous example, was an explicit video caused a stir also in China, when a Beijing-branch of the Japanese clothing chain Uniqlo became infamous back in 2015, caused by a couple who had sex in one of its changing rooms, filmed it, and made it viral.
The police arrested five people involved in the incident, including the young couple in the video.
Another example was when independent porn star Taylor Jackson became the first person to have sex inside a moving autonomous car. But in this case, Elon Musk, the CEO of Tesla, the car Jackson was in, didn't take it seriously.