Despite the fluctuating prices of cryptocurrencies, the craze isn't ending.
With more people owning and using cryptocurrencies for purchasing goods or for investments, Tokyo-based multinational conglomerate holding company SoftBank wants to appeal those particular consumers by introducing a debit card featuring a built-in cryptocurrency wallet.
According to a press release, the card SoftBank developed is called SoftBank's SBC Wallet Cards (Softbank Card 3.0),
The card has been created through a partnership with wallet card development firm Dynamics. SBC wallet cards aim to provide improved security and better accessibility when compared to traditional wallets. The cards also have their own encryption system and can perform both hot and cold wallet functions.
The cards are also supported by a specialized app that comes with the "legal currency storage function, credit card function and electronic payment service," to eliminate the time required for block confirmations when performing digital currency transactions.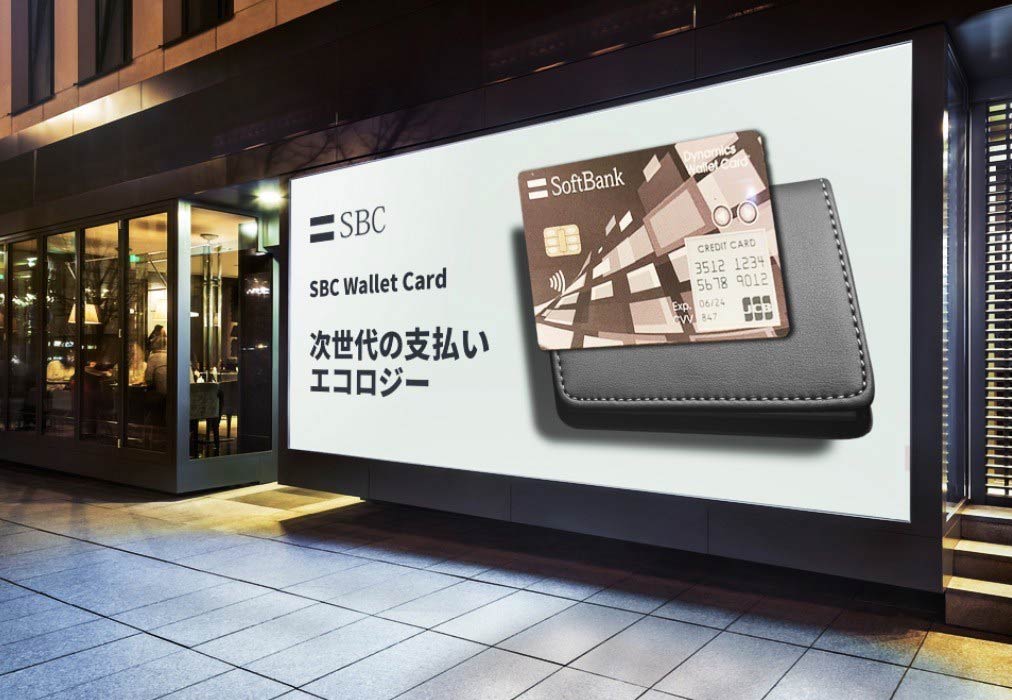 Credit: SoftBank / PR Newswire
"In the version of SoftBank Card 3.0, the Wi-Fi function, the Fiat and digital currency switching buttons, and the information display screen are integrated. In the Wi-Fi module, the SBC implements a hot wallet when the Wi-Fi function is turned on, and a cold wallet when the Wi-Fi is turned off. The card is embedded in the world's only cutting-edge technology battery (simply put a smart led screen on the SBC card which displays the balance of your card), which is paper thin, and can be used for three years."
Using this card, SoftBank wants to be part of the digital economy, as the community expands with the help of tech giants pushing cashless solutions.
In other words, SoftBank's strategy is to boost initiatives that can rival Google Pay, Amazon Pay and Facebook. With the card's wallet access and on-card display, SBC Wallet Card separates itself from competitors, since many of them just act as a bridge between the Visa network and cryptocurrency storage on their respective services.
The SBC wallet card is initially available only in Japan where it's making a debut on 10,000 stores. The card is also slated for release in other regions.
"SBC Wallet Cards have received strong support from well-known local agents, and a payment system for 10,000 stores in Japan has recently been opened, and will be available in the United States, Southeast Asia, South Korea and Dubai. With the SBC Wallet Cards, the SoftBank team is making a big break in the blockchain payment arena."
Another advantage of this card for SoftBank is that, it greatly shortens the preparation time before card issuance, and reduces the issuance cost of multiple cards, as it greatly enhances the relationship between users/merchants and issuers.
This should make owners of the card capable of quickly responding and replacing the card in the event of theft.
Additionally, the card also has a chip capable of connecting itself with Internet of Things (IoT) devices, allowing users to control their smart home devices, for example.
In addition to the basic functions of a bank card, this is the first time that the SoftBank card technology has come into life.
"We are not doing simple cards, but are creating a flexible and faster life of the application scene and the future of payment integration. The SBC we built does not close to other encryption cards. You'll know the black technology only after you used it," said the SoftBank SBC Project Leader.
Previously, SoftBank Group as one of the-largest company in Japan after Toyota, has been actively participating in blockchain-related projects, including a number of investments. For example, the company and other industry players have participated in a series B financing round of Lagos-headquartered fintech Opay, which raised $120 million.
SoftBank-backed Chinese fintech firm OneConnect filed for an IPO with the U.S. Securities and Exchange Commission, as the company seeks to raise $100 million, with an aim to be listed on NASDAQ's Global Market or New York Stock Exchange.
SoftBank, with blockchain platform TBCASoft and IBM have also announced a collaboration to adopt a cross-carrier telecommunications blockchain payment solution. The partnership aims to allow carriers to use blockchain through the Carrier Blockchain Study Group (CBSG) Consortium - founded by TBCASoft and SoftBank.