It began when a Telegram user nicknamed 'God God' created several groups and named them by their ordinal numeral (hence the name "Nth Room").
From there, the user started uploading nudity and pornography. After sufficiently populating the rooms with contents, another user nicknamed 'Watchman' advertised the link to these groups in another Telegram group named "Gotham room".
When Telegram users started joining the rooms, God God wanted to have even more pornographic content, but this time, by exploiting others, to then monetize from the group members' participation. To do this, the alleged mastermind behind multiple chat rooms who was later revealed to be Cho Ju-bin, posted part time job offerings on social media networks.
There, he was seeking to gather as much information from girls and women who applied.
With sufficient amount of information, Cho could sexually exploit those females, to then force them to 'participate' in populating the contents of his Nth Room Telegram groups.
Cho threatened the girls and women to take nude it not revealing pictures and videos of themselves, by threatening if they don't he will spread the information to the world. And when the females did provide him with the 'content' Cho needed, Cho further blackmailed the females to give him even more pornographic contents of themselves.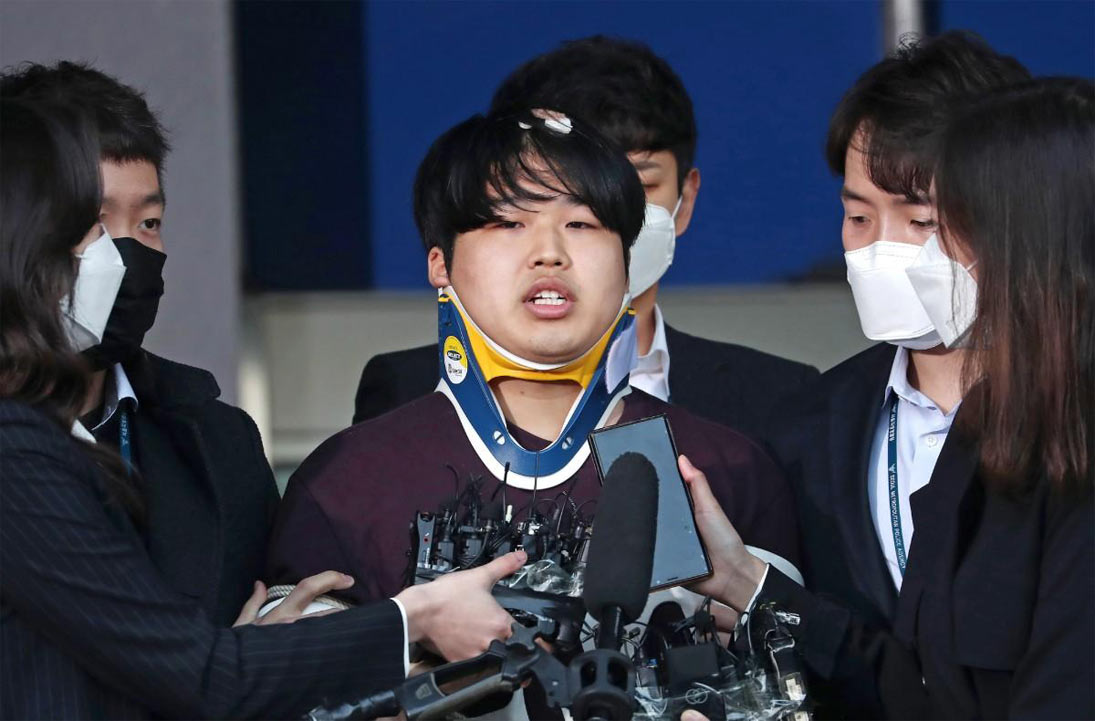 Cho Ju-bin, the mastermind behind Nth Room, is considered one of the most hated men in South Korea. (Credit: Yonhap / AFP)
After the rooms become more crowded, Cho made customers to pay up to $1,200 to access his Nth Room chat groups. To gain access to these chat rooms, customers can also "prove" themselves worthy by uploading their own sexual abuse videos and images in a separate channel.
Due to this approach, Cho somehow managed to make people participate by abusing even more unsuspecting victims that can include teenagers to prostitutes. These people contacted then women through social media accounts, promising them quick and high-paying modelling or escort.
Then there was a man who reported the Nth Room case by contacting 112. Unfortunately at the time, the Police Department did not view the reports as a case and ignored them.
In January 2019, the Seoul Shinmun started acknowledging the severity of the case following an undercover journalism to Telegram rooms titled "'Do you sell child porn?'… Crime flourishing on Telegram". This followed the case back in 2018, when it was revealed that someone had hid hidden cameras at Apink Bomi and actress Shin Se Kyung rooms.
In an investigation, the police found that there were secret Telegram rooms actively distributing pornography and child pornography. In the same manner, in April 2019, it was reported that Telegram was being used as a platform for crime for sharing illegal pictures and videos.
The news was kept close from major press releases, until it was finally reported on August 12.
Since then, the case had brought huge social impact and public anger.
When Cho Ju-bin was finally revealed as the mastermind behind the Nth Room Telegram groups, the case was then closed.
Even as the novel 'COVID-19' coronavirus dominates the headlines around the world, people in South Korea recognizes Nth Room as a criminal case that involved blackmail, cybersex trafficking, and the spread of sexually exploitative videos between 2018 and 2020.
The number of confirmed victims is at least 100, including several underage girls.
At least 260,000 users accessed these chat rooms, with a number of them were actually paying members with either cryptocurrency or videos of their own.
Besides Cho who was born in 1995, more than 220 people have been accused of digital sex crimes and have been detained by the police.
Nth Room is a case that reveals the extent to which modern technology can be used to virtually exploit people in a form of modern slavery. As one of the Nth Room victims explained, her identity and personal information, so much of which is freely uploaded to social media, can be turned into a trap to trick someone in an exploitative relationship.
Since this case, orphanage volunteer Cho Ju-bin, or also known as "doctor" or "baksa" on the encrypted messaging platform, became one of the most hated men in South Korea.
"I apologize to those who were hurt by me," Cho said as he was led away from a Seoul police station. "Thank you for putting a brake on the life of a devil that could not be stopped."
While the case was wrapped, many people were accusing the media for putting more emphasis on the victims, rather than the case or Cho himself.
Read: Dark Web Case About The Paedophile Matthew Falder Is Closed