Using Google Search, people can get all sorts of information, from videos and images to tweets, recipes and many more in between.
But if compared to the whole World Wide Web, the search giant Google can't show enough of everything. But with an update, it can at least show more things.
And that is by including more than 2 million podcasts that are playable directly on its search engine result pages.
Starting with people using English in the U.S., Google announced that they can play podcasts directly from its desktop and mobile search results.
"Starting today, when you're searching for a podcast about a topic on Google, such as 'podcasts about Awkwafina' or 'Instant Pot recipe podcasts,' we'll show you playable episodes in Search results alongside web pages, news, images and videos."
"Soon, you won't necessarily need the term 'podcast' in your search to see episodes, making podcast discovery simpler across Search."
To make this possible, Google expands how its search engine indexes and understands podcasts.
Previously, Google's crawlers gather data such as titles and meta data of podcasts. With the update, the search engine can reach deeper inside contents within actual podcast episodes.
Here, Google is becoming capable of indexing the words in podcasts.
"We'll surface these episodes based on Google's understanding of what's being talked about on a podcast, so you can find even more relevant information about a topic in audio form," said Google.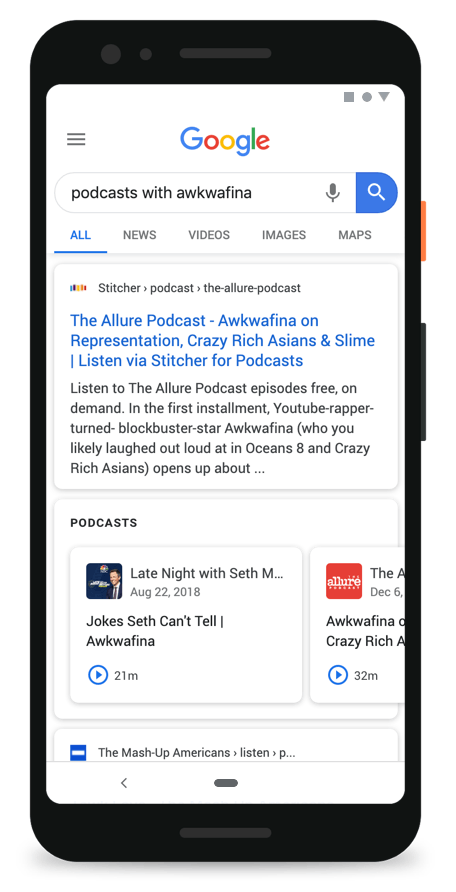 Google plans to bring this functionality to Google Assistant and Google Podcasts for the web.
When this happens, users can ask Assistant for podcasts about a certain topic, like for instance, using "Hey Google, podcast about Marie Curie." This will make Assistant suggest relevant episodes for them.
And in Google Podcasts for web, users will be able to search for relevant shows and episodes, and listen everything from right there on their computer or phone.
To make things convenience, every listening progress is synced, meaning that users can pick up where they left off. And things go beyond those too.
According to Google:
"As part of our work to help podcasters build audiences and grow their businesses, we'll soon add the ability for publishers to specify where you can listen to their podcasts, such as other apps or websites. This means you'll be able to discover podcasts that may be exclusively available by purchase or subscription."