Apple reached yet another milestone.
When Apple became a $1 trillion company back in 2018, the company was still way behind Saudi's oil company Aramco.
But when Apple surpassed $1.5 trillion market capitalization, things started to change.
This is because it didn't take long for Apple to finally surpassed Aramco, and became the largest publicly-traded company in the world.
And this time, Apple again reached another milestone, and that is becoming the first ever 2-trillion dollar American company.
Summarizing the milestones, Apple managed to go from zero to two trillion in a little more than two decades, and doubled its market capitalization in just two years.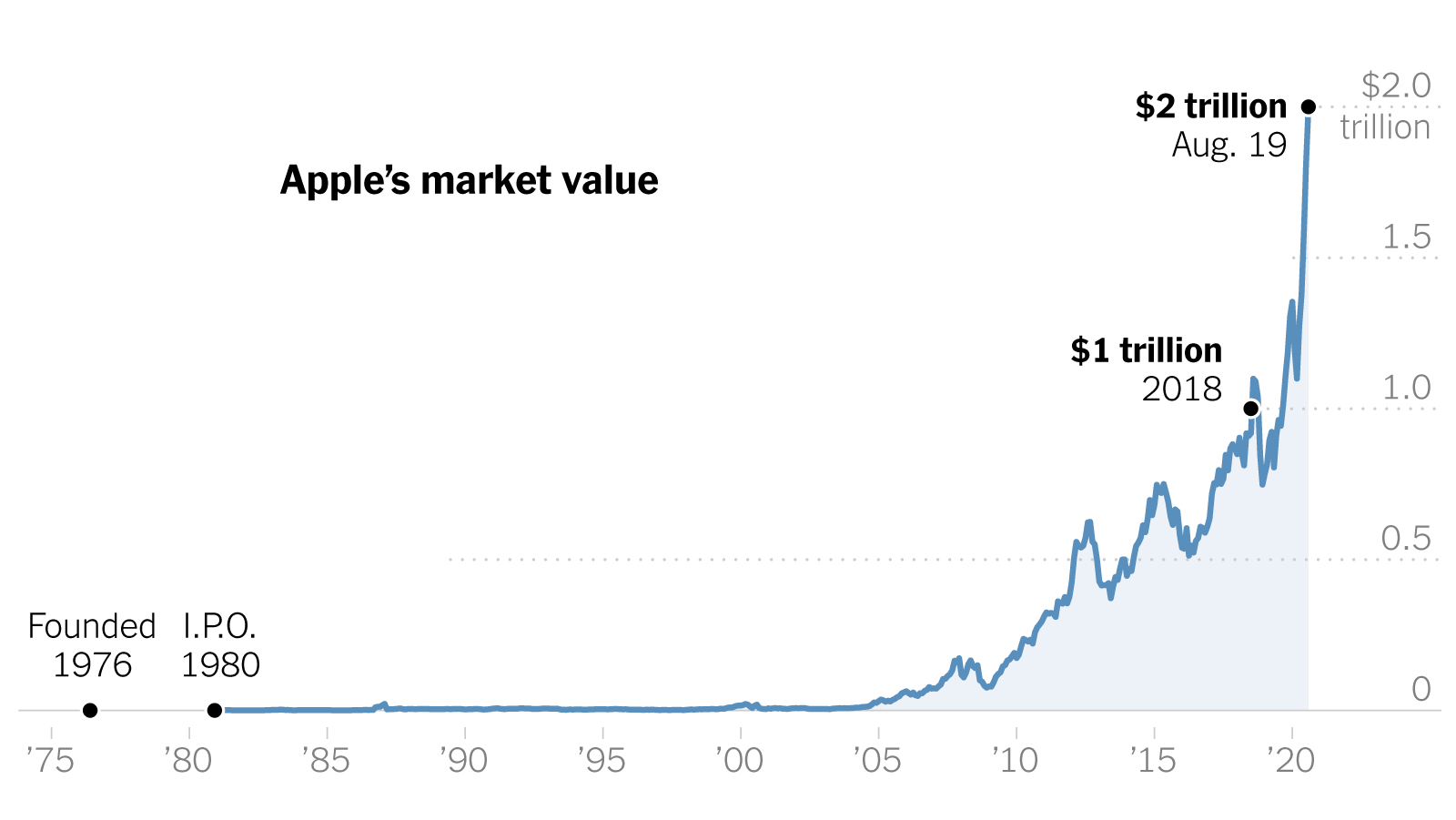 It took Apple 44 years to go from zero to two trillion.
Apple managed to get the boost it needed to reach the milestone, when exchange-traded funds made big bets on the tech company. As a result, Apple's shares bounced and added 1.1%.
Apple, follows Amazon, Microsoft and Google-parent Alphabet, all of which are also trillion-dollar companies. Facebook on the other hand, is trailing close behind them, with $761 billion.
It should be noted that Saudi's Aramco surpassed the $2 trillion valuation back in December, 2019. However, the 'COVID-19' coronavirus pandemic plunged oil prices and hurt the company's stock. Meanwhile, people that started to rely more on technology during the crisis, benefited many tech companies.
And among them, Apple is leading the pack.
The Cupertino-based company did experience some problems earlier in the pandemic. But since then, it has benefited from work-from-home trends and strong online sales; It posted record third quarter earnings in late July, with nearly $60 billion in revenue, not to mention double-digit growth in its products and services segments.
This happened after Apple gained nearly 60% as the company overcame the shutdown of factories in China that produce the iPhone and the closure of its retail sales amid the coronavirus pandemic.
Surpassing 2 trillion, Apple's market value is now higher than the GDP of numerous developed countries, including Italy, Brazil, Canada, Russia and South Korea, to name a few.
Apple, Amazon, Microsoft, Alphabet and Facebook account for nearly 23% of the S&P 500's entire value.
Aiming For The Next Trillion
Apple came up with an impressive June quarter financial results. That was perfectly timed with the Apple's launch of the lower-cost iPhone SE and a boost from government stimulus.
But aiming for the next trillion can be difficult, considering that Apple's valuation is now at a relatively uncharted territory.
First, Apple in managing to surpass predictions made it embed elevated future expectations. What this means, Apple's hefty valuation leaves little room for disappointment.
Second, Apple got a boost when it introduced the lower-priced iPhone SE. Going forward this 2020, Apple needs to convince customers to buy its higher-priced iPhone 11 successors.
And making people to buy its expensive phones can be a trouble on its own, especially that many people around the world are already facing job insecurity. What's more, Apple's future ARM-powered processors (Apple Silicon) at this time is more of a rumor than a news, since Apple has yet to show its methods to overcome the challenges of switching chips away from Intel's.