Bitcoin is the most popular cryptocurrency. Powered by the blockchain technology, it has reached a milestone when it officially processed its 400,000,000th transaction.
When the news came, BTC averages at approximately 360,000 transactions daily, with the underlying blockchain handling 14,904 transactions every hour.
This translates to 81,513 BTC ($424 million) traded hands every single hour.
The average transaction value stands at 5.44 BTC ($28,316).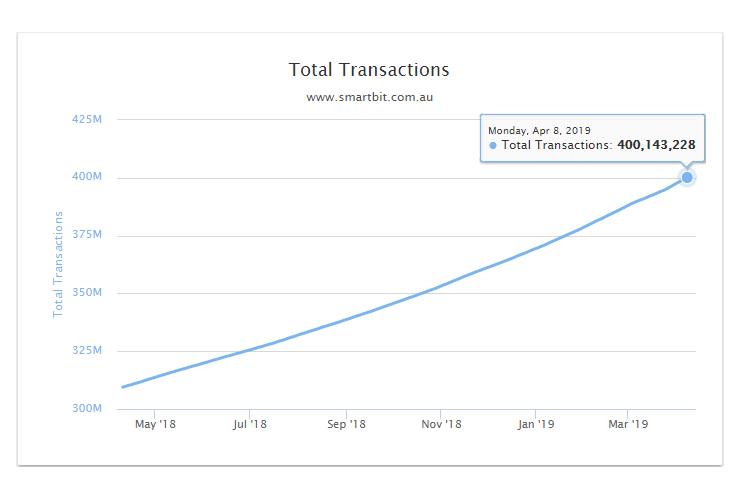 Bitcoin hitting 400 million transaction on April 8th, 2019 (chart: Smartbit.com)
At the beginning of April, the crypto community rejoiced as the entire cryptocurrency market soared showing signs of recovery. Bitcoin led the way when it broke the $5,000 price level for the first time since November 2018.
This started in March 31st, when the average amounts of transactions supported within Bitcoin blocks surged to 2,746 on a daily basis. That number exceeded previously recorded all-time highs twice in just 10 days.
The first all-time high record was set on 20 December 2017, when Bitcoin was close to its all-time high value of $20,000.
The transaction per block, at that time, was recorded at 2,722.
Read: "Mystery Buyer" Increased Bitcoin Value To More Than 20 Percent
According to data available on Blockchain, Bitcoin's total transaction count was recorded to be 400,143,228 on early hours of 8th April 2019.
The jump in activity came simultaneously with the abrupt surge in prices.
This was normal, as traders flock to various exchanges to transact in Bitcoin whenever prices rise.
Bitcoin is the world's largest cryptocurrency by market capitalization (valued at around $92,4 billion), and is often referred to as the "king of the cryptocurrency market" as it is the reason behind the inception of several other currencies in the market.
The coin continues to be the highlight of the cryptocurrency space, especially since 2019 marks its 10th anniversary.
At this time, there are around 17.6 million Bitcoin available in circulation, out of the possible 21 million that can be mined in total.