Bitcoin was first released on November 2008 by the mysterious Satoshi Nakamoto. To celebrate the cryptocurrency's tenth birthday, the Swiss luxury watchmaker Hublot, introduces a special and limited edition watch called the BIG BANG MECA-10 P2P.
The watches which are Hublot's line of BIG BANG MECA-10 watches, have a peer-to-peer cryptocurrency twist, as customers can only purchase them using Bitcoin.
Hublot said that it's only releasing 210 pieces of BIG BANG MECA-10 P2P watches, a number referencing the 21 million Bitcoin that can ever exist.
This makes Hublot the first watchmaker that creates watches only to be purchased using cryptocurrency.
The watches are also sold exclusively via e-commerce and can only be ordered online.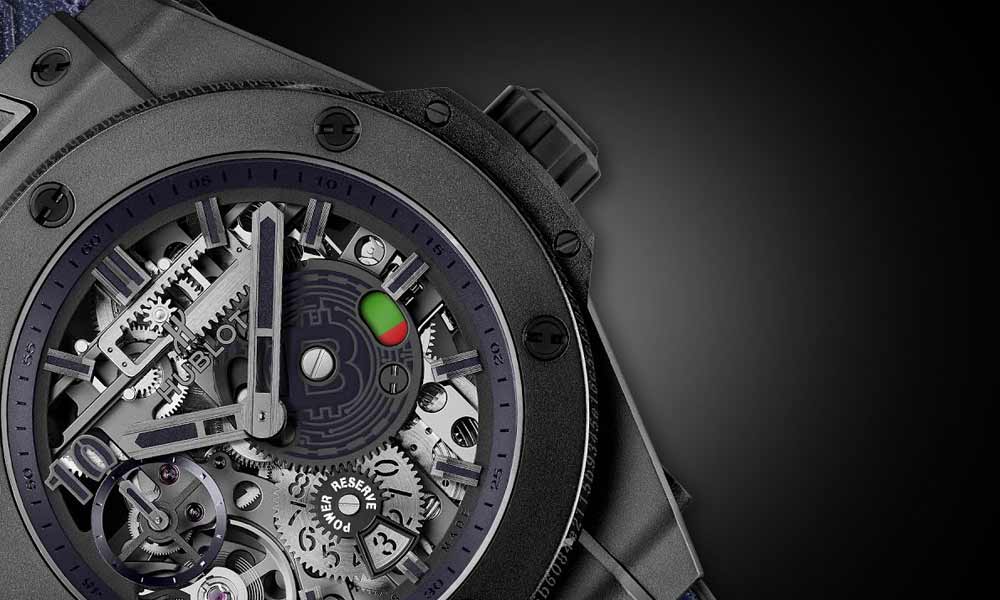 Each BIG BANG MECA-10 P2P watch has a 10 ATM water resistant 45mm case made from microblasted black ceramic, created from the zirconium dioxide pressed at a very high temperature.
The material that is sometimes known as zirconia, has a chemical formula of ZrO2. When heated, its monoclinic crystal structure transitions to tetragonal and cubic. Stabilizing it, zirconia can acquire fracture toughness, transforming into hard ceramics with significant reliability.
Its watch-face's bezel is engraved with a unique identification number, relating to the Bitcoin transaction used for its purchase.
Another reference to cryptocurrency can be found in the calfskin leather strap lined with black rubber, which is embossed with the word "Blockchain." Hublot said that it represents "the interconnection network of computers on which virtual money works."
Inside, the BIG BANG MECA-10 P2P houses a Hublot HUB1201, a skeleton movement with manual winding which offers a 10-day power reserve.
Hublot's BIG BANG MECA-10 P2P was presented on November 6th 2018 in Hong Kong, where the OS Limited (OSL) headquarter is located.
Ricardo Guadalupe, CEO of Hublot, greeted the guests at an event with an "interactive display" detailing the world of cryptocurrency, specifically the Bitcoin payment system.
The company partners with the Asian brokerage firm OS Limited to handle its Bitcoin transactions, while noting that the partnership represents the first time a watchmaking brand has opened up to accept cryptocurrency payments.
According to Dave Chapman, Chairman and co-founder of OSL:
"OSL is excited to collaborate with Hublot and LVMH, an industry leader in the luxury world, to enable a digital asset industry first. As investors are increasingly looking to diversify their investment portfolio by adding digital assets with generally low correlations to traditional asset classes, we are committed to providing our clients with industry leading trading solutions to support their investment journey."