The proliferation of fake news and hatred in social media platforms and online media didn't end after Indonesia's general elections were held on 17 April 2019.
At that time, the country had its a simultaneous parliamentary and presidential elections, considered the first in the modern Indonesian history, with over 190 million eligible voters and 16 parties.
With the results of the election concluded that Joko "Jokowi" Widodo to be re-elected as Indonesia's president after defeating former general Prabowo Subianto, not everyone was happy with the outcome.
It started on Tuesday night, May 21st, 2019, where chaos unfolded after protesters by supporters of Prabowo Subianto who ran late into the night, led to riot and violent clash with police officers around Central Jakarta.
The next morning when many Indonesians woke up, they were in shock to know about the incident, and spoke out on social media, leading to a number of trending hashtags.
Some of the hashtags include: #TangkapPRABOWO (#ArrestPRABOWO), which are mostly from netizens blasting the retired general for the chaos caused by him refusing to accept his defeat; and #saveindonesia which was surfaced by those who expressed their gratitude to members of the police who have been safeguarding the capital for several days, during the fasting of Ramadan and fears of unrest.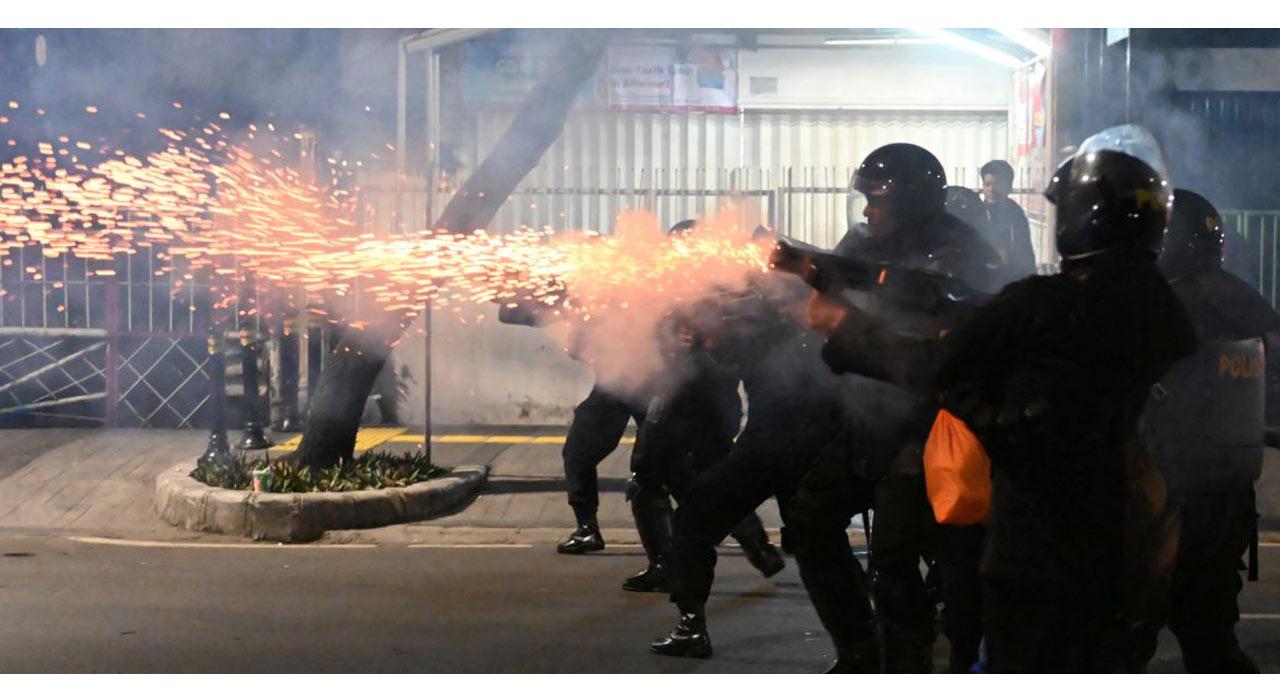 Indonesian police officers dispersing the crowd by shooting tear gas outside the Election Supervisory Agency in Jakarta, Indonesia, early morning in May 22, 2019
With a little less than 200 million eligible voters, the Indonesian general election was regarded as one of the largest single day election in the world.
And here, Indonesia is Facebook's third-largest market and a top-five market globally for its platforms WhatsApp and Instagram, as well as its rival Twitter.
It has been reported numerous times that parties and candidates were hiring internet trolls and buzzer teams to create campaign tools and propaganda, to affect certain results.
These so-called "cyber troops" operate hundreds if not thousands of fake accounts, each with hundreds to thousands of followers. Spreading across all popular social media networks, the accounts were said to be either be used by those who want to spread fake news, or rented to politicians and brands targeting millenials to amplify their messages, or to knock down opponents or defend against criticism.
The targets of these fake news stories and overt-hatred are the general public. And more than often, the creators of this hateful content often have dangerous intentions when creating and spreading hoaxes and hate speech, as they seek to divide society.
Those who become victims of fake news are not limited to ordinary citizens, but also public figures, including the country's elites and state officials.
Indonesia's Ministry of Communication and Information Technology also warned citizens about negative contents that include hate speech, hoaxes and misinformation, urging people to not spread them.
Being aware of the danger of fake news, hate speech, and trolls, some Indonesia's cyber communities, including bloggers, vloggers, YouTubers, and content creators, have also met to discuss and urged the community members to exercise critical thinking to suppress political conversations on various issues that could disrupt the nation's unity.
"Political conversations are prone to hoaxes. Hence, please be cautious every time you receive political news. Make sure that your alarm of cautiousness is always on, and do not get accustomed to taking whatever is going viral for granted," said an influencer.
To also limit the spread of fake information, the government has restricted the access to Facebook, WhatsApp and Instagram. Annoyed netizens sent their complaints to Twitter, using hashtags like #instagramdown, #WhatsAppDown and #facebookdown, which all have became Twitter's trending topics.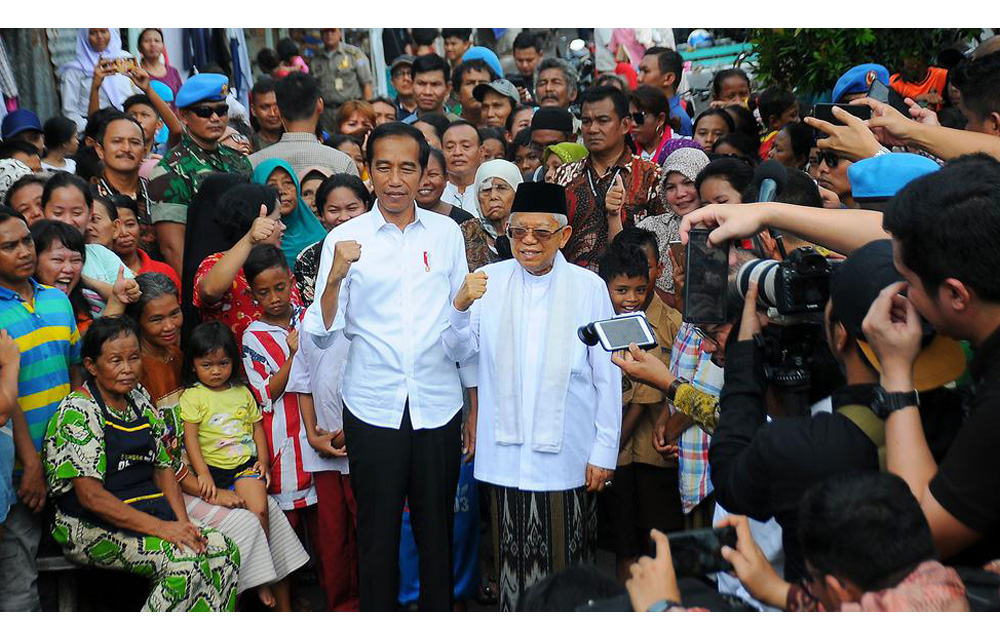 Joko Widodo delivered his winning speech in front of the crowd at Kampung Deret, Petogogan, Jakarta
While Jokowi's side has claimed victory, Prabowo's side on the other hand, declared that they would not accept the General Election Commission's official results.
It started on 14 May 2019, where Prabowo's side held a press briefing where they alleged that vote-rigging had occurred, and claimed that Prabowo's campaign team had collected evidence showing so. Prabowo claimed that his internal counts had found him winning with 62 percent of the votes, and accused the pollsters of taking sides.
May 22nd was the peak day.
Throughout the days until that day, tens of thousands of security personnel have been deployed around the larger Jakarta, with most are concentrated around government offices related to the election, such as the General Election Commission (KPU) and the Election Supervisory Agency (Bawaslu).
Roads around those buildings where barricaded by razor wire to hold off protesters from entering the surrounding area.
Until 22 May 2019, the riot has resulted to the deaths of 6 and over 200 injured.