Tiziana Cantone was an Italian woman who committed suicide after her sex tapes that were sent to a former boyfriend and other men, were uploaded to the internet.
In one of the six videos that were uploaded, one was Tiziana performing fellatio to at least three men in front of a car, in one night in the spring of 2015. Then, the men penetrated her, in what appeared to be a steamy group sex. Other videos include her engaging in coitus with a man, more fellatio scenes, playing with a sex toy, receiving a man's ejaculate on her face, and more.
In one of the videos, she was heard saying "Stai facendo il video? Bravo!" (Italian for "You're making a video? Bravo!").
This phrase earned her an instant famous meme; appearing on T-shirts, smartphone cases and other paraphernalia. However, as the videos circulated on the internet communities, people started to mock those clips. This was when Tiziana's real name was revealed.
Worse, two Italian footballers even created their own mock version of the video in a supermarket mimicking the quote. National-radio hosts also made a jingle of the phrase.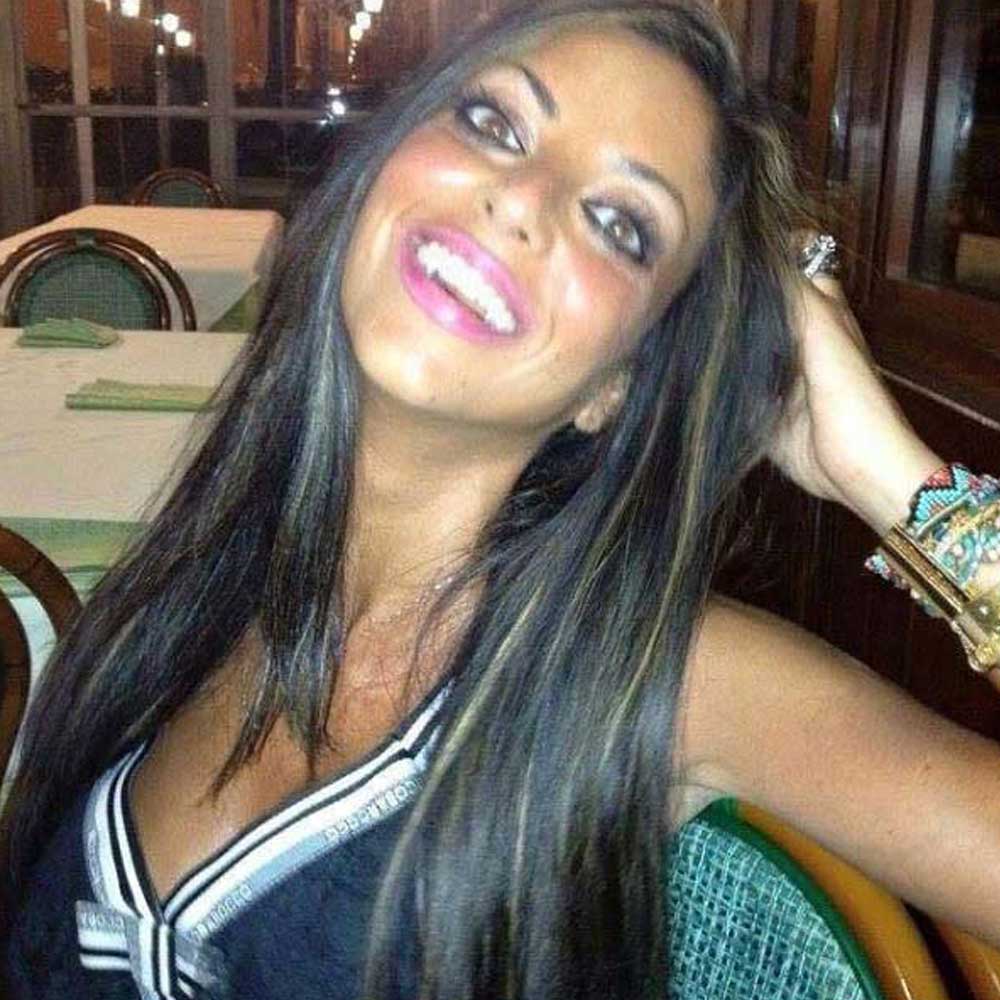 Tiziana Cantone.
Her explicit images and videos appeared on porn websites and spread virally, many with jeering comments, edited screenshots and cruel video parodies.
If the horror for the young woman wasn't enough, many of them use her full name, Tiziana Annunziata Cantone.
In other words, she was doxxed, in a revenge sex tapes that went viral.
It all began when Tiziana, an energetic young Italian woman who managed the staff at her family's business in Naples, recorded and shared all the consensual sex acts to make Sergio Di Palo, her ex-boyfriend, jealous.
But at the time, she didn't know how sharing such content to others, through the internet, would backfire.
Quickly, her videos went viral, and Tiziana was an internet phenomenon.
Due to how fast the videos were spreading due to their virality, some publications even referred the sex tapes as Italy's most viral sex tape.
After being recognized in public, Tiziana left her job and moved in with her parents in Mugnano, Italy.
She changed her name to Giglio Tiziana, and fought through courts to have the videos removed from the internet, requiring her to pay €20,000 in legal costs.
While she partially won the "right to be forgotten" ruling, she couldn't escape the fact that her sex tapes are still out there circulating.
This was when she committed suicide by hanging herself in the family's home on September 13th, 2016. The Instagram model was 33-year-old when she was found dead.
She hanged herself at her aunt's home, in her basement, while her mother, Maria Teresa Giglio, was at work.
The unfortunate young woman took her own life because she couldn't get the sex tape off the internet.
She just couldn't endure the months-long cruel taunts from online trolls.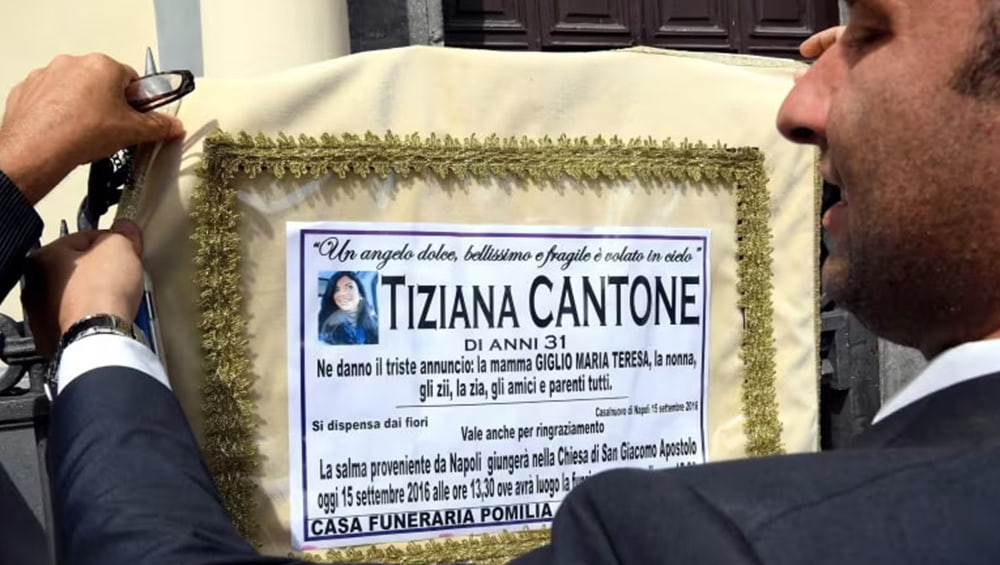 A man holds up a poster announcing the death of Tiziana Cantone during her funeral in Casalnuovo, near Naples.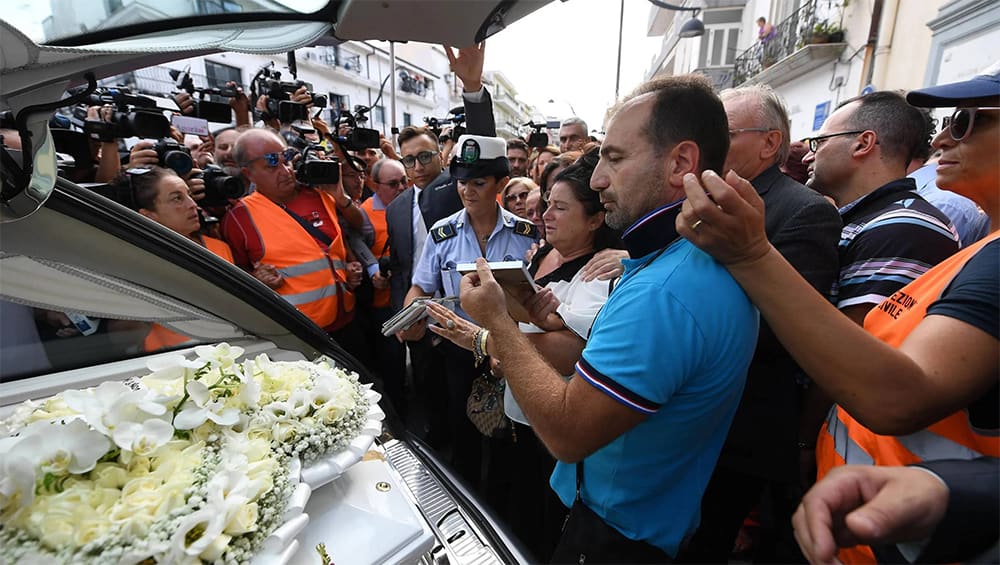 Members of the media crowd around the hearse of Tiziana Cantone as her mother Teresa Giglio (center), salutes it, during her funeral.
This was her third suicide attempt, according Maria Teresa Giglio, her mother.
The meme and cyberbullying continued even after her death. Users of Reddit, 4chan and others have made "slut-shame" of her.
This prompted a response from Italian politicians.
On September 14th, a day after Tiziana's death, Italian MP Elena Centemero responded to by saying "it is once again a woman who is the target of violence and hate."
Italian MP Donata Lenzi advocated drafting legislation to punish cyberbullying and the distribution of revenge pornography.
"She was hurting and at times took refuge in alcohol. But she was always a healthy and normal girl," her mother said.
"She was suffering from everything she saw and heard and in particular from the outcome of the legal proceedings, because she believed justice had not been done."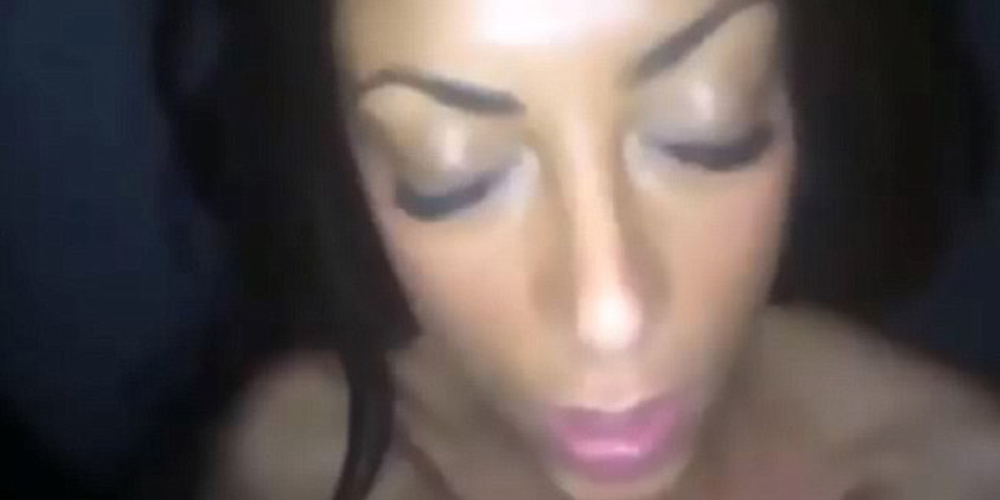 A screenshot of one of her sex tapes.
Tiziana's suicide came just as her friends thought she was finally putting her past life behind her.
Maria Teresa Giglio continues to fight on her daughter's behalf to remove the videos from the internet. Her family have also expressed their desire for a change and pleaded Italian officials "to act so that her death was not in vain."
On her funeral, one mourner interviewed said that she was surprised by how few men had attended.
"There were many women and very few men and this thing made me feel really bad," she told reporters.
Tiziana's suicide came just as friends thought she was finally putting the past behind her.
"I wonder how anyone can be so fierce, how to rage against a girl who has not done anything wrong," she said.
"I think that they should be ashamed, all those who have filled the web with insults and meanwhile secretly watched the images."
As of 2018, Giglio was still fighting to remove her daughter's video from the internet.
"She was suffering from everything she saw and heard and in particular from the outcome of the legal proceedings, because she believed justice had not been done," her mother said.