Social media networks are the hype of the digital world. They encompass everything where people can share, connect, converse and collaborate.
But according to Wikipedia co-founder Jimmy Wales, he thinks that social networks in general only care about engagements and the money.
This is why he created 'WT:Social', a social network with no financial association with Wikipedia, but operates in a similar business model: donations, and not advertising.
According to WT:Social website (https://wt.social/):
"As social networks have grown, they've also amplified the voices of bad actors across the globe. Fake news has influenced global events, and algorithms care only about 'engagement', and keeping people addicted to platforms without substance."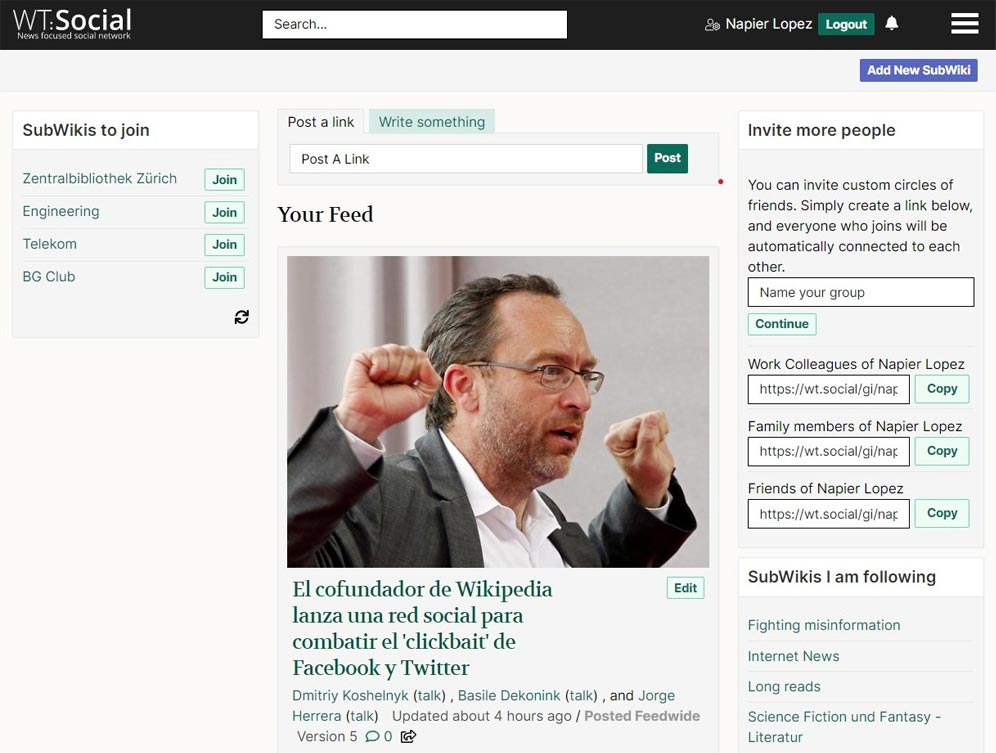 Screenshot of WT:Social
Differentiating itself from the social media crowd, WT:Social is not selling users data. Instead, the platform is only sustained from users' donations, which come from the "generosity of individual donors to ensure privacy is protected and your social space is ad-free."
"We will empower you to make your own choices about what content you are served, and to directly edit misleading headlines, or flag problem posts."
"We will foster an environment where bad actors are removed because it is right, not because it suddenly affects our bottom-line."
In an interview with the Financial Times, Wales said that "the business model of social media companies, of pure advertising, is problematic. It turns out the huge winner is low-quality content.."
At the moment of its launch, WT:Social has scarce features and lacks the interface found on most social media networks.
It boasts a simple feed comprised of news stories, with a section for comments below them. Here, Wales is making news as a big part of WT:Social News, as it is more or less, a spinoff of Wales' previous project, WikiTribune, which sought to be a global news platform with contributors from professional journalists and citizens.
Both WikiTribune and WT:Social want to combat fake news by highlighting evidence-based coverage. This can be seen with stories posted on the social media mentioning the sources the articles came from, as well as providing the references to them.
WT:Social is also designed for users to join various 'SubWikis', which are like Facebook Groups or Reddit's subreddits. Each topics are filtered, and users can add hashtags to a post or follow hashtags they are interested in.
With WT:Social, Wales want to take on Facebook and Twitter, with a focus of bringing more meaningful contents, by building small niche communities.