As the most popular video streaming website, YouTube that is owned by Google since 2006 is available for everyone. Since the service is more related to entertainment on the web, any member of the family can access any part of the site as long as they are logged in. YouTube already had its own 'Safety Mode' to prevent children seeing things they aren't supposed to, but Google thinks that isn't enough.
On February 2015, Google announced YouTube Kids, an app that only plays age-appropriate videos. The kid-friendly version of its Youtube app shows videos that are aimed at youngsters only, nothing more and nothing less.
YouTube is more often accessed with people no matter what their age. The company said that it has seen a nearly 200 percent growth in family entertainment since 2014. The traffic is boosted as its popularity among children has increased. This is concerning to parents since they are worry that their children may venture to inappropriate videos.
"We've seen 50 percent growth year over year in viewing time on YouTube, but for our family entertainment channels, it's more like 200 percent," said Shimrit Ben-Yair, Product Manager for YouTube Kids.
YouTube bans explicit sexual content, but there are dark corners of YouTube where kids can accidentally end up. Even with the Safety mode on the regular site and apps, children can still manage to see videos that aren't meant for them.
"Parents have been asking us to make YouTube friendlier for kids and for families," said Ben-Yair.
YouTube Kids only plays videos that are heavily edited. Since there are huge amount of kids contents being posted everyday, the app is also relying on the community to tag which is appropriate for children, and which aren't. In addition to testing with kids and parents inside Google, YouTube shared the app with children's advocacy groups like the Family Online Safety Institute and The Internet Keep Safe Coalition.
To prevent any misuse, the app that is also meant to accommodate toddlers, is meant for watching videos only. There is no feature where the user can upload, share, or comment. To put safety a bit further, the search feature is filtered so users who search for adult-related terms will make the app reply: "Try searching for something else."
The design is plain simple. The app uses minimal text while the graphic is boosted with big icons and fonts alongside larger tiles and images. Children can also speak in the search feature instead of typing. To ease children in using, and keeping them entertained without much of a hassle, video that ends will play the next one automatically.
The app with the simplified design is made so even children that haven't yet able to read will still be able to navigate.
The parental controls include the ability to set a timer to limit how much time the child spends using the app. The feature enables parents to monitor how long their beloved children use the app, and control how long their kids can use the app before it shuts down by itself.
YouTube Kids have channels and playlists organized into four categories:
Shows. Iincludes popular channels, and big brand names that are actively releasing new episodes.
Music. Populated with children songs, including sing-along songs.
Learning. A section where children can learn new things. Including walk-through for games and how-tos.
Explore. Meant for enthusiast children to see more that what has been categorized.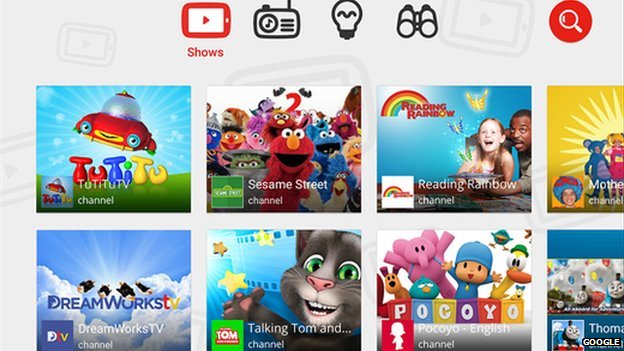 As usual, YouTube still aims to make money from ads that are shown on its app. YouTube Kids that can be downloaded for free, and doesn't require a login session, is showing ads specifically targeted for those of the young ages. All ads have strict scrutiny and rigorous review before they're able to be shown inside the app. This is meant to comply with the COPPA (the Children's Online Privacy Protection Act), which limits online tracking of anyone under 13, and parents must be notified if personal information on their child is collected..
YouTube's move has been praised and welcomed well by the NSPCC child protection charity.
"Keeping children safe online is the biggest child protection challenge of this generation. So it's good to hear about the launch of YouTube Kids," said a spokesman for the charity. "I'm sure it will be embraced by parents wanting increased reassurance that their younger children won't be exposed to inappropriate material."
The move follows Vine's kid-friendly version of its app that was released in January 2015.