Twitter's "It's what's happening" says it all. In the microblogging platform, pretty much of the world's interests are going on.
It was Donald Trump's main platform before he was banned, it's a place where a billionaire businessman communicate, and played with the market, and once insulted someone using the term "pedo guy".
Twitter is where world leaders and celebrities gather, it's a place where businesses try to reach their customers, a place where former NSA contractor Edward Snowden is mostly active, and many many more, including the endless hashtag campaigns, as well as challenges.
As a platform where people can express their opinions and thoughts through a limited number of characters, Twitter has become part of history.
It has been the driver to many, and a place that gathers information for the world to see. Twitter has been creating that unique space.
But before any of that happened, there was one tweet that started them all:
If Twitter is already part of tech history, that very tweet, was the first that helped made that history.
It was Jack Dorsey's tweet, the first-ever tweet on the platform. The founder and CEO shared it in 2006, when he was "just setting up my twttr."
The tweet was sent by Dorsey. way before Twitter launched its mobile app.
Originally, Twitter allowed users to tweet from their computers, or tweet to Twitter via messages. As a matter of fact, when mobile usage started to boom, SMS messaging was the main way Twitter users could post to the social media platform.
And this time, the Twitter founder and billionaire is selling this tweet, as a non-fungible token (NFT).
Dorsey announced the sale, by tweeting a link to Valuables, a platform that allows people to sell one-of-a-kind digital certificates of specific tweets, which are "autographed" and verified by the original sender.
The highest bidder at this time, is Bridge Oracle CEO Sina Estavi, who is willing to cash out $2.5 million to own that tweet.
Estavi has been bidding for it for multiple times, followed by Justin Sun, founder of the cryptocurrency platform TRON, who also bids in seven digits.
As to why anyone would pay to own a tweet, Valuables stated in an FAQ page, that:
"Owning any digital content can be a financial investment, hold sentimental value, and create a relationship between collector and creator. Like an autograph on a baseball card, the NFT itself is the creator's autograph on the content, making it scarce, unique, and valuable."
Jack Dorsey's first tweet, which is also the first-ever tweet on Twitter, went up for sale on Valuables.
At this time, there are lots of items that are already for sale using this NFT approach.
NFTs are an increasingly popular element of the ever-growing world of cryptocurrency.
Essentially, they can turn anything that is digital, into a collectible or asset. And the NFTs here, are essentially the "certificate" of ownership, made for authenticity in owning a digital asset.
Just like Bitcoin and other cryptocurrencies, NFTs are sold and bought via the blockchain, a transparent digital ledger to track the item's movement. Using blockchain's transparency and information in blocks that cannot be copied but are easily tradable, owners of NFT items can have their names written inside the blocks for anyone to see.
When an NFT is created, it is put up on the blockchain and is time stamped, therefore making ownership very simple and easy to identify
This ownership can be transferred to the next buyer, if the owner wishes to sell the NFT item.
Seeing and anticipating a rise for this buying and selling NFT trends, a number of marketplaces have been created dedicated for this activity.
Just before this, NFTs have already become a hype, most notably after Grimes auctioned off her digital artwork as NFTs, among others.
Read: The Rise Of NFT Arts: Disrupting Traditional Forms Of Showcasing And Collecting Arts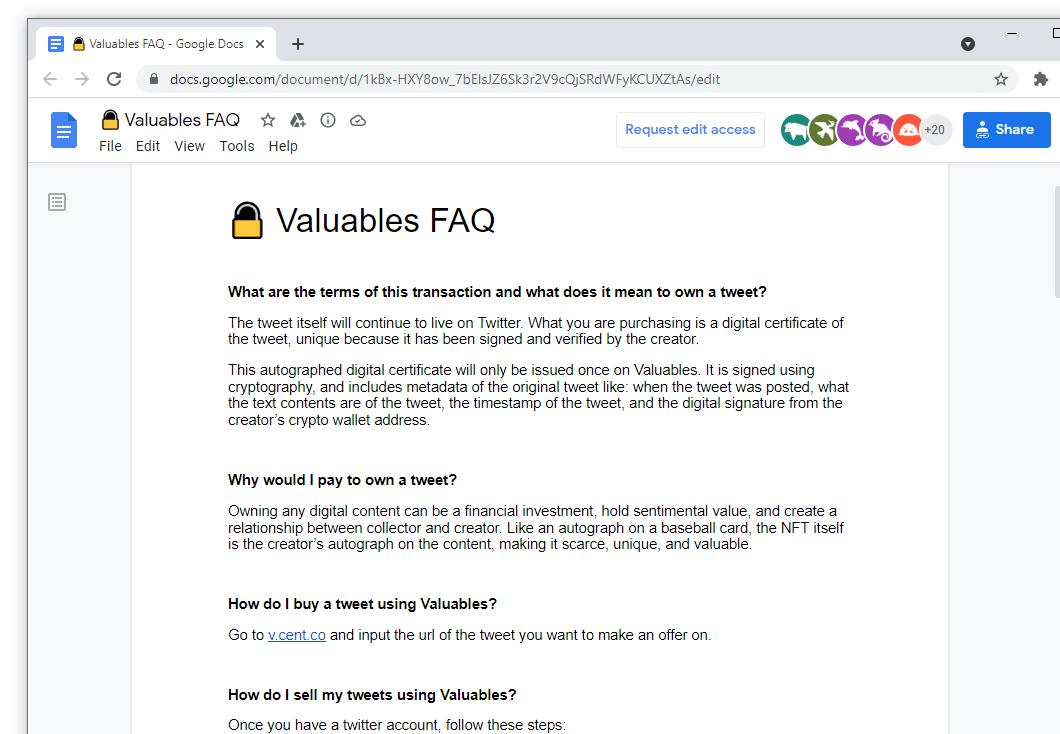 Valuables FAQ page.
When the tweet is sold, it will have a new owner.
Despite remaining on Twitter, the winner will receive an autographed digital certificate that includes metadata of the original tweet, as the proof-of-ownership.
Dorsey's tweet was first tokenized using the Tokenized Tweets platform on June 17, 2020. According to Valuables, tweets can "only be minted once on Valuables, [but the] NFT though can be bought and sold an unlimited number of times."
At this time, not everyone, even those from the cryptocurrency community, is impressed by Valuables' approach in selling tweets. Many think that tweets in real-world value, are worthless.
But just like any other item in this world, price can go up as long as the demand is high, even if the item does not make sense. And if a thing has its own history, there will be fans, and fans will drive the prices high.
And this tweet from Dorsey, is no different. At this time, thousands of tweets are tweeted every second. And Dorsey's setting-up-his-Twitter tweet is already world-famous, simply because it predates everything on Twitter.
In the past, Dorsey has expressed huge interest in Bitcoin and blockchain.
He has said that Bitcoin is "one of the most seminal works" in decades, praising the whitepaper for the cryptocurrency like a "poetry." He also connected Bitcoin's founding principles and its decentralized approach to be one of the the driving spirit behind the internet in general:
"Bitcoin is probably the best manifestation of that thus far. I can't see that changing given all the people who want the same thing and build it for that potential," Dorsey also said.
Dorsey is also a fan of blockchain, the technology behind Bitcoin, saying that it can "point to a world where content exists forever."
Dorsey even advocates Bitcoin, by displaying #bitcoin in his Twitter bio. Dorsey that is also the founder and CEO of Square, also purchased 3,318 Bitcoins in late February, expanding on its October 2020 purchase of 4,709.