Indonesia's Ministry of Communication and Information Technology is responsible for the country's communication and information affairs.
At this time, the ministry is led by Johnny G. Plate.
"The first, of course my choice is no restrictions," said Plate when he assumed office in 2019. "But for that no restrictions to happen, don't make a mess, don't break the law."
Plate is known to be less aggressive that his predecessor, Rudiantara. But that doesn't make him less capable.
According to reports, the ministry is taking a step further in blocking and restricting illegal online streaming activities on Telegram. The privacy-oriented messaging app by Russian entrepreneur Pavel Durov has been in the ministry's crosshair after its users were found spreading hoaxes and negative contents to Indonesian citizens.
"For messenger platforms such as Telegram, because it's private, the ministry can propose to block or suspend the reported Telegram account or channel, and coordinate with the Directorate General of KI at the Ministry of Law and Human Rights," said a spokesperson and special staff at the ministry to CNNIndonesia.com some time ago.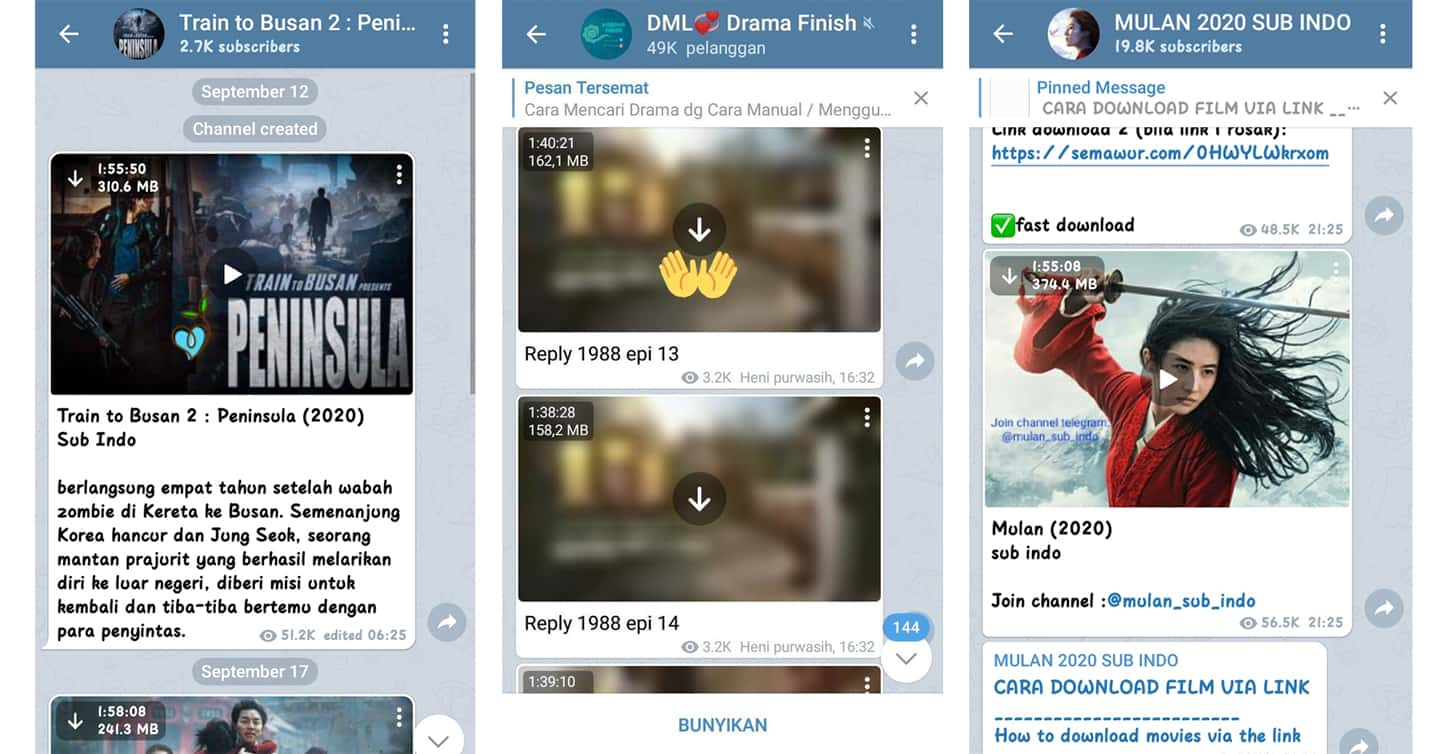 The Indonesian government doesn't like that Telegram users can share, view and download copyrighted films for free.
But what the ministry is focusing on at this time, is Telegram in providing the platform for users to search, stream and download films illegally.
The spokesperson said that his party is doing this because there have been many complaints about this illegal act.
Because the practice of distributing copyrighted films and series for free without permission can be classified as a violation of Intellectual Property Rights (IPR), the ministry has upped its effort to hunt down groups and channels that are actively sharing those content.
As Telegram users can easily search for Korean dramas, Hollywood movies and local films through various Telegram channels, the ministry is taking its attempt one step further.
"The handling is based on reports from the public, complaints from the Directorate General of KI Kumham, and from film business actors or film associations who have suffered losses as a result of the piracy of the film," the spokesperson said.
Even so, the spokesperson said that the ministry did not take any immediate action, because it must first take careful consideration of the complaints received.
There are three sources of complaints that can be assessed by the Ministry of Communication and Information, including "Handling based on complaints from the public, complaints from the Directorate General of Intellectual Property, Ministry of Law and Human Rights, and finally complaints from film business actors or film associations who are harmed as a result of piracy. the film, "said Dedy.
Previously, the Ministry of Communication and Information was not only targeting Telegram.
Based on the data, a total of 1,745 websites and contents have been blocked by the Ministry in the 2017 to 2019 period. The ministry's data also showed that the number of blocked sites and contents continue to rise from year to year.
Besides targeting those who spread copyrighted films for free on Telegram, the ministry has previously stated that it is also blocking film streaming sites, including music and others that were indicated as illegal, because they violated IPR provisions.
One of the main targets of the ministry, is the IndoXXI and some other prominent websites that allow visitors to freely watch and download movies.
What makes illegal contents thrive on Telegram, is not only because of its privacy approach that protects all users from ISPs and governments.
Telegram is also known to have a less restricted policy that governs channels and groups. And with channels and groups capable of having thousands and more followers, and with users ability to share files that are gigabytes large, people can easily share copyrighted films illegally through the platform.
In other words, once a film is uploaded to a popular account, it won't be long until followers and even non-followers would see, view, and download the films.
These facts make Telegram one of the most popular platforms for distributing illegal contents and activities. One of the most famous, would be the 'Nth Room' case.