"Our intent was to make a platform for many different experiences"

- John Hanke
Keeping his profile low, John Hanke was able to create products that speak for themselves, which then as a side-effect shouted his name out aloud. With previous experience and knowledge, Hanke led the team in creating a product that initiated a global craze.
Hanke is an American entrepreneur that founded and runs Niantic Labs as its CEO. The company conducts experiments on mobile, social and local applications such as Ingress. And the product that boost Niantic to the stratosphere, is Pokémon Go, the location-based AR (augmented reality) game that quickly became a phenomenon.
In the first week after its launch, Pokémon Go became the fastest-growing mobile game of all time, with 10 million downloads. Using the popular characters such as Pikachu and others, Nintendo which is the Japan-based game maker which has a stake in Niantic and owns one third of the Pokémon series, has seen its market value more than double to billions of dollars in just a single week.
With the game, Hanke led the team behind Niantic, helping the gamers to 'conquer' the world.
Early Life
John Hanke attended the University of Texas at Austin. Before receiving his bachelor's degree, he chaired the Distinguished Speakers Committee in his campus. After graduating, Hanke continued his studies to receive his MBA degree from Haas School of Business at the University of California, Berkeley in 1996.
Hanke has worked for the foreign affairs for the U.S. government in Washington, DC, and Myanmar, and helped two startups (Archetype Interactive, and Big Network where he served as its President and Chief Operating Officer) before the two subsequently made success as entertainment software companies. Hanke has also worked on one of the early MMOs called Meridian 59.
But Hanke is looking for more, and that is creating his own startup that would soon change the way people see the world.
From Keyhole To Niantic Labs
Before the year 2000, John Hanke took notice of a few interesting developments: consumerized 3D graphics that become affordable and easy to use; broadband and high-speed internet rapidly becoming available to people all over the world; and the commercialization of aerial photography technology that would enable the birth of products that would change the way people visualize the world.
With those three in mind, in the year 2000, Hanke co-founded Keyhole, a software development firm that consumerized "spatial visualization." It was at first launched as a spin-off of Intrinsic Graphics, but it didn't take long until fundings from numerous investors started to pour in. With its name growing, it also didn't take long until Google took notice. In 2004, the search giant acquired Keyhole and Hanke's team, and developed Keyhole into Google Earth.
From 2004 to 2010, Hanke worked with Google's Geo team as the Vice President of Product Management, and spent his time leading the division that creates Google Maps, Local, StreetView, SketchUp, and Panoramio.
But as an entrepreneur at heart, Hanke wanted more than that. He saw challenges ahead, and he was eager to do what he think he was supposed to do, and that is to create another startup.
"At the end of that time period it went from being very much a start-up with Keyhole with a few dozen people inside Google to something that was hundreds of people spread all around the world. At the same time, there were some things related to maps that I wanted to do, that didn't really fit in terms of the mainstream [company] focus. So after six years I was ready to clear the slate and start fresh and go build another product," said Hanke
He spoke with Larry Page which was at the time the CEO of Google, as well as others in the company. They have all agreed to find a way to create an environment for him where he can build his own startup, inside Google.
In 2010, Hanke founded Niantic Labs. By staying inside Google, Hanke and his team were able to use Google's infrastructure and data. "There were a lot of advantages to doing that from inside Google with everything we could leverage."
The company takes its name from the vessel called Niantic, which came to San Francisco during the California Gold Rush. The startup's first product was Field Trip (2012). This was followed by Ingress, then Endgame.
From Ingress To The Creation Of Pokémon Go
Niantic was doing well on its own and Ingress was a success. With steady monetization effort, the startup was about to make a bold step to move away from traditional means. But in 2015, Google split up with Niantic, not long after the search giant announces its restructuring with Alphabet, Inc..
The first thing that came to mind was how to survive.
Since then, Niantic has no other way other than to use in-app purchasing. In-app purchasing, according to Hanke, is sort of a proof concept. Blending it with the narrative way of Ingress, Niantic can monetized its game through native techniques, rather than the more common direct marketing techniques.
Clients include Hint Water, Vodafone, Motorola, AXA, SoftBank, Mitsubishi UFJ Financial Group, Lawson and Ito Enan.
When things work as expected, Hanke is now ready for another venture. In September 2015, it was announced that Niantic was developing Pokémon Go in partnership with Nintendo and The Pokémon Company for iOS and Android. With investment pouring in from venture capital firms and angel investors, Hanke led the team to use Ingress data to populate places at Pokémon Go. And with additional data taken from Google Maps, Niantic can spawn specific Pokémon on certain terrain or environment, such as industrial places, deserts or forests.
The idea for Pokémon Go was a simple joke. In 2014, Hanke and his team was involved in hiding Pokémon monsters in Google Maps. But the idea has succeeded in spawning the biggest games phenomenon in years.
"People seemed to love that combination of maps and Pokémon," said Hanke. "Everything about the brands and the experience seemed like a good fit… like chocolate and peanut butter."
The blend between the two was the permanent combination which sparked the idea for the game.
Since its release, the game quickly gathered old and new fanatics. Pokémon Go that is regarded as the milestone where the future of games extend beyond the screen and re-imagining reality, quickly became one of the most popular app on iOS and Android.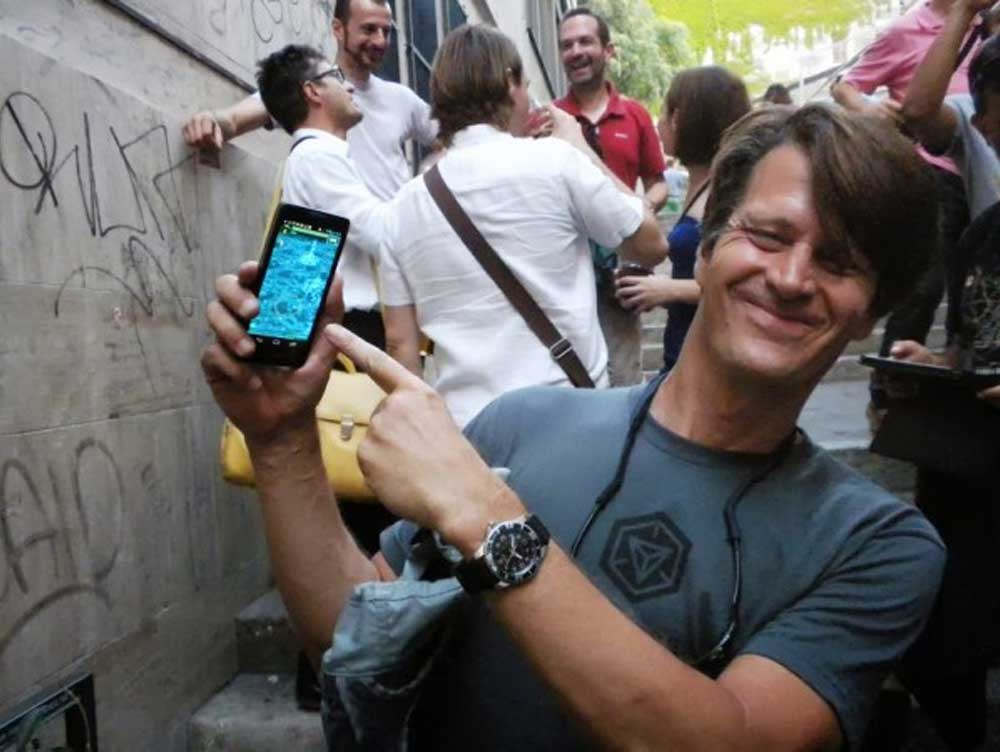 The game was praised with comments never mentioned before. Some said that the game is great for exercise, socializing people to the easiness of "breaking the ice", and making people to go to places never seen before. But at some if not many concerns, Pokémon Go also got bad reputation. As an AR game that makes gamers to travel the real-world to hunt Pokémon monsters, many gamers have crossed the boundaries of their own safety. Teenagers have been sen to stumble through train lines, caves and to even cause accidents in many parts of the world. Many countries around the world have issued the game as "unsafe", and "un-Islamic" (in Saudi Arabia). Police departments have issued warnings about those gamers that go to extents to pursuit those rare virtual creatures, and politicians have also raised concerns about mobile data and privacy.
The controversies weren't limited to only those that concerns safety and privacy, but also to the obvious potential for businesses to exploit gamers through advertising. Some conspiracy theorists went to an extent by saying that, beneath its fluffy exterior, Pokémon Go is actually a CIA surveillance tool.
With millions of gamers playing at one time, Niantic's servers have crashed numerous times. Hanke and his team are working to straighten this issue before advancing the game with more unique creatures, and more monetization efforts.
Hanke also serves as Director at SourceTrace Systems, Inc..
Personal Life
As a man obsessed with technology, John Hanke has his shelves stocked with games. The difference is that, Hanke is more of an old-fashioned games fan rather than the more sophisticated, high-tech games with powerful graphics. The prominent ones that Hanke put on his shelves were Risk, Settlers of Catan and Stratego. A coincidence or not, all three have the same simple aim: to take over the world.
He is able to make the company that took its name from a whaling vessel during the 19th century gold rush, from the sea to be a gold mine. Hanke with Niantic, and his creations, enjoy a more public exposure. But Hanke himself is more of a person that likes to keep his profile low in both the industry he is in and in the Silicon Valley.
Hanke is married with Holly, a woman he met during his studies at the university. The couple has three children. Hanke that values privacy, opt to keep his family far from the limelight he his having.