Apple Computer, Inc. was founded by Steve Jobs, Steve Wozniak and Ronald Wayne.
It first started when 16-years old Jobs and 21-years old and Wozniak met in 1971 when their mutual friend, Bill Fernandez, introduced them together. They began their partnership when Jobs saw Wozniak's talents. Jobs managed to interest Wozniak in assembling a computer machine and selling it.
Apple's first computer was the Apple I.
Apple was incorporated January 3, 1977 without Wayne, who sold his share of the company back to Jobs and Wozniak for $800. Millionaire Mike Markkula provided essential business expertise and funding of $250,000 during the incorporation of Apple.
The name later changed to Apple Inc. on January 9, 2007 to reflect the company's shifted focus towards consumer electronics.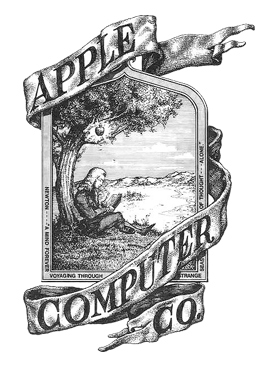 Before incorporated, this Apple's first logo features Sir Isaac Newton sitting under the apple tree where he supposedly discovered gravity, by an apple falling on his head. It was drawn by then co-founder Ronald Wayne.
Since then, Apple has been considered as one of the Big Tech technology companies, alongside Amazon, Google, Microsoft and Facebook.
The company creates and develops hardware products including the iPhone smartphone, the iPad tablet computer, the Mac personal computer, the iPod portable media player, the Apple Watch smartwatch, the Apple TV digital media player, the AirPods wireless earbuds, the HomePod smart speaker, and more.
As for its software products, they include macOS, iOS, iPadOS, watchOS, and tvOS operating systems, the iTunes media player, the Safari web browser, the Shazam music identifier, and the iLife and iWork creativity and productivity suites, and more.
For Its online services, they include the iTunes Store, the iOS App Store, Mac App Store, Apple Music, Apple TV+, iMessage, iCloud, and others.