The novel Wuhan coronavirus pandemic is forcing many governments across the world to put their nations under lockdown. With the disease still spreading, scientists are still scrambling for a proper cure.
The adult entertainment companies however, benefited from the coronavirus trend, because an increasing number of people use the internet to find more and anything that is related to this COVID-19.
True to the notorious Rule 34 slang, there was a total of 6,877,922 coronavirus searches on Pornhub in the past 30 days alone.
Searches about porn-related coronavirus peaked on March 5, with over 1.5 million searches a day, with most viewers coming from Slovakia, Bulgaria, Ireland, Malaysia, and Serbia.
Another porn site, xHamster, also experienced a surge in coronavirus-related searches in the same period.
There are already hundreds of coronavirus-related porn on those websites.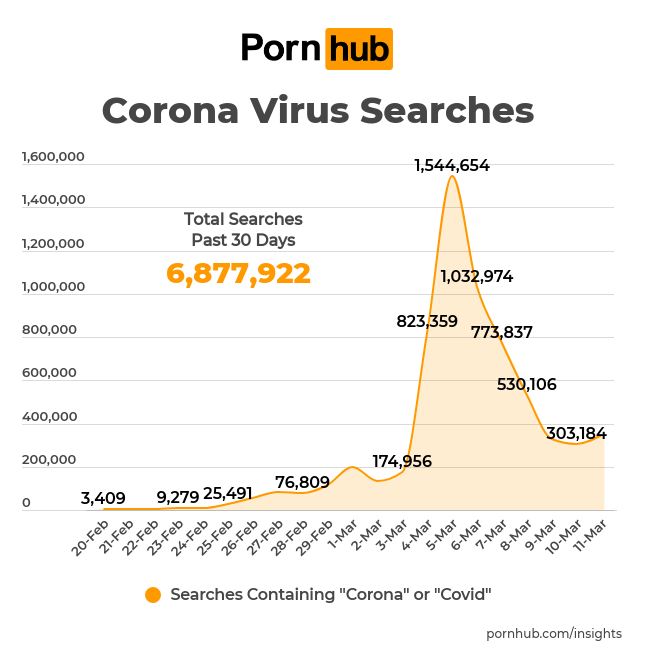 Many industries around the world have been dramatically impacted by COVID-19. With the governments urging many of company workers to stay at home, and that apparently made people to quickly realize that working from home has its own fair share of distractions.
Approximately 120 million people visit Pornhub everyday, said the company, and in a blog post, the adult site showed that "as the Coronavirus spread around the world, Pornhub's traffic did grow." They continued, saying, "perhaps more interesting, we found that people were choosing to visit Pornhub at different times."
Pornhub also said that searches containing "coronavirus" that first appeared on January 25 have continued to grow.
"In the past 30 days, our statisticians recorded more than 6.8 million searches containing either 'Corona' or 'Covid,'" the company said in its post.
"Searches peaked on March 5 at 1.5 million."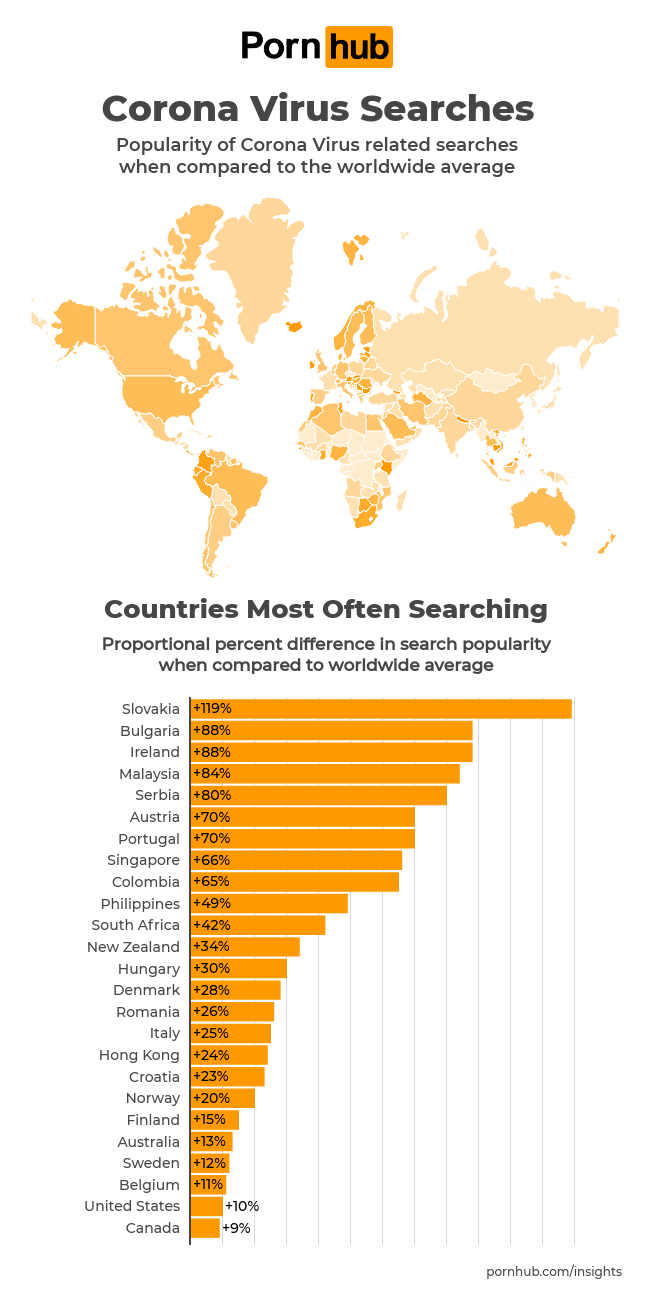 "I think people are attracted to COVID-19 themed porn the same way people who are scared of their shadow are attached to horror movies: We are all searching for things that make us come alive," said an adult performer to Vice.
Acknowledging this, those porn sites created marketing campaigns to make internet wanderers to watch porn, and existing porn viewers to watch even more porn.
Pornhub has been cashing in on the coronavirus, by giving Italians free premium subscriptions for the entire month of March to keep them from breaking quarantine. All they have to do is to open a Pornhub account, and they're good to go. The adult entertainment company later expanded the effort to Spain and France. And later, it again expanded its subscription free for everyone across the world.
All that in the hopes to flatten the curve amid lockdowns around the world. The company also said that it's extending the free Pornhub premium support, which unlocks select content to everyone across the world until April 23.
The company also said it is donating the money it receives from those people to its Modelhub March "to help Italy overcome the emergency."
"To keep you company at home during these weeks, you'll be able to access Pornhub Premium for free for the whole month, with no need for a credit card."
Japanese adult content distributor Soft on Demand made 200 videos available for free during the pandemic. Similar to Pornhub, all users need to do, was to only register an account.
The move proved so popular with others in the adult entertainment industry, that some of their websites have been down for at least several hours due to the surge beyond their capacity.
But porn isn't the only thing that people watch while they are at home "working".
Gaming and streaming also occupy more of people's time. In Italy for example, the nation that has shut down everything except grocery stores and pharmacies, and according to Bloomberg, "the amount of data passing through Telecom Italia S.p.A.'s national network has surged by more than two-thirds in the past two weeks," most of which is because of online gaming.
"We reported an increase of more than 70% of internet traffic over our landline network, with a big contribution from online gaming such as Fortnite," said Telecom Italia's CEO Luigi Gubitosi.