Couples go through laughter and tears, happiness and sorrow, together. But sometimes, things just don't work, even after years, or even decades together.
Bill Gates is the co-founder of Microsoft, one of the most influential and powerful tech companies in the world. The billionaire has announced that he and his wife, Melinda, are separating after spending 27 years of their lives as husband and wife.
In a tweet, Gates who is one of the world's wealthiest men, said that he and his wife made the decision after "a great deal of thought and a lot of work on our relationship."
"Over the last 27 years, we have raised three incredible children and built a foundation that works all over the world to enable all people to lead healthy, productive lives. We continue to share a belief in that mission and will continue our work together at the foundation, but we no longer believe we can grow together as a couple in this next phase of our lives. We ask for space and privacy for our family as we begin to navigate this new life."
The two shall continue their "mission" as philanthropists, with their efforts to help solve issues in education, gender equality and healthcare.
But with the divorce, "we no longer believe we can grow together as a couple in this next phase of our lives."
Gates led Microsoft as its CEO from its founding in 1975 with Paul Allen until 2000.
He then left Steve Ballmer to run the company, while he became the company's chairman and Chief Software Architect. In 2008, Gates resigned from the company, in order to focus more of his time on the nonprofit Bill and Melinda Gates Foundation.
Besides his fortunes coming from Microsoft, Gates also made a number of investments, crediting his close friend Warren Buffet as his mentor.
As for Melinda, born Melinda Ann French, in Dallas, Texas, the U.S. in August 15, 1964, is the second of four children born to Raymond Joseph French Jr. and Elaine Agnes Amerland.
Raised a Catholic, she attended St. Monica Catholic School, where she was the top student in her class. She then earned a bachelor's degree in computer science and economics from Duke University in 1986, and an MBA from Duke's Fuqua School of Business in 1987.
Melinda first met Bill at a trade fair in New York City, and began dating, also in 1987.
"It took him quite a few months before he asked me out," Melinda once said.
Dating Bill Gates, who was the CEO of Microsoft at the time, Melinda became a marketing manager at the company, being responsible for the development of various multimedia products. Melinda was also Microsoft's General Manager of Information Products, a position which she held until 1996.
After spending roughly 7 years as a couple, the two were married in 1994 in a private ceremony held on a golf course on the Hawaiian island of Lanai.
The two have three children: Jennifer, Phoebe and Rory Gates, and reside at their main family home called 'Xanadu 2.0', an earth-sheltered mansion overlooking Lake Washington in Medina, Washington.
A photo of Bill and Melinda's wedding in Hawaii, 1994.
In 2020, Gates stepped down from Microsoft's board, as the 'COVID-19' coronavirus became a pandemic.
During the year, Gates spent even more of this time on the foundation alongside Melinda.
At the foundation, the two are founders, and also equal partners.
The Bill and Melinda Gates Foundation has an endowment of nearly $50 billion, making it one of the largest foundations in the world. In 2019 alone, the foundation has spent around $6 billion to various causes, that according to its annual report.
Since its inception, the foundation has paid out almost $55 billion in grants.
Both Bill and Melinda are also jointly chairs the Warren Buffet's Giving Pledge, a commitment of the world's wealthiest people to donate most of their wealth to philanthropic endeavors.
According to multiple sources, staff members at the Gates foundation were already alerted of the the couple's breakup before their public announcement, with one of the staff describing this as a "total shock."
"The marriage is irretrievably broken," the divorce documents say.
"We ask the court to dissolve our marriage and find that our marital community ended on the date stated in our separation contract."
Reports suggest that there is no prenuptial agreement, as the filing states that the only written agreement that relates to the divorce is the aforementioned separation contract.
Melinda does not appear to be asking for any spousal support from the Bill Gates, whose net worth exceeds $120 billion.
The announcement comes two years after Amazon founder Jeff Bezos said he and his wife, MacKenzie, were getting divorced. Bezos' split from Mackenzie Scott resulted in the latter instantly becoming one of the wealthiest women in the world.
Read: Jeff Bezos And MacKenzie Divorce: The Most Expensive Of All Time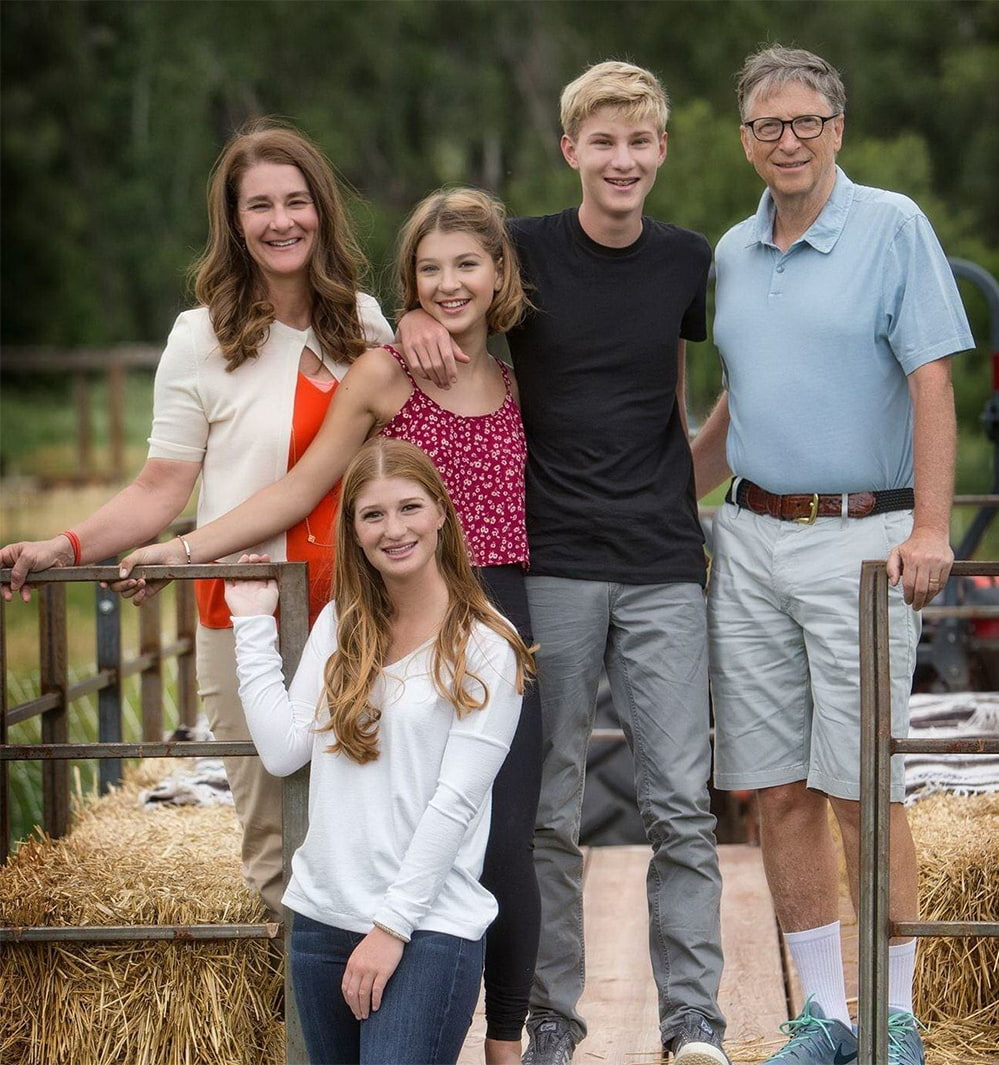 (clockwise) Melinda, Phoebe, Rory, Bill and Jennifer.