Social media can be chance to experience "a new life" for many people, if the first chance, which is the real world, isn't friendly.
Qandeel Baloch's case was an example of this.
14-year-old Claire Miller, a girl living in Manheim Township, Pennsylvania, the U.S., was charged for homicide of Helen Miler, a 19-year-old who was no other than her older sister.
The authorities arrested the young teenager after she admitted to the act.
Helen Miller who died early in the morning in their family's home, had cerebral palsy and used a wheelchair.
Following her arrest, the news sparked a frenzy on TikTok, as users on the platform believed that the younger Miller ran the @spiritsandsuchconsulting account. It had roughly 32,000 followers, and its latest videos that showed Miller and her family, amassed millions of views.
The comments sections of the videos were full of users discussing the news. The popularity of the posts even made the videos to have appeared on TikTok's For You Page, according to some of the comments.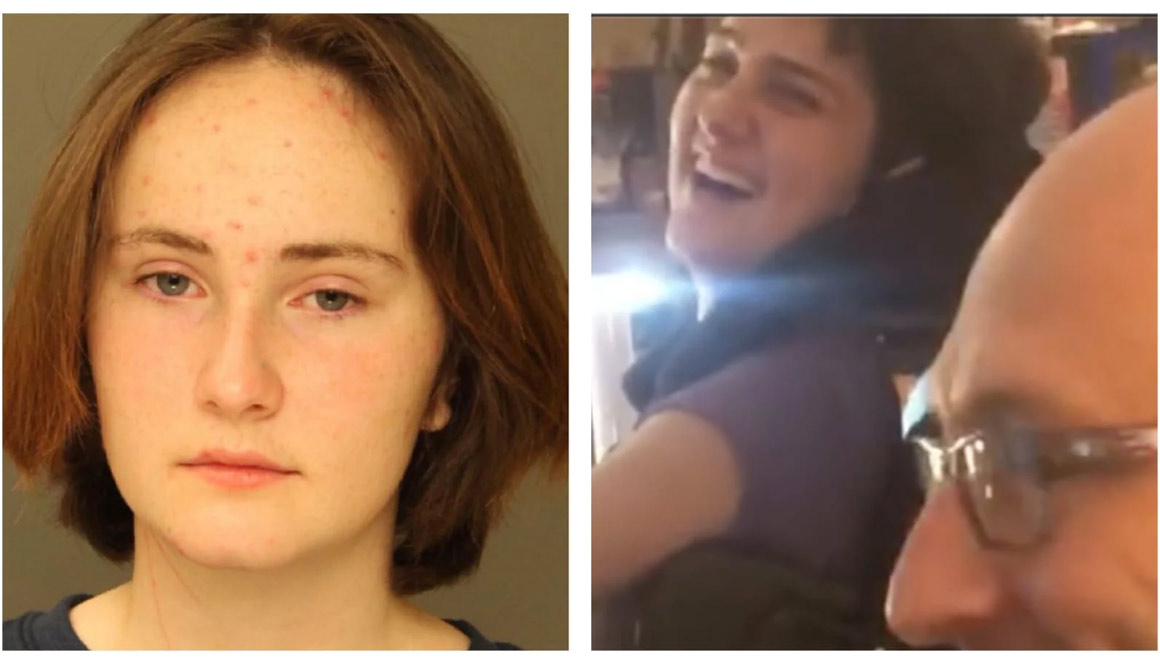 Claire Miller (left), and her wheelchair-bound sister Helen (right) next to her father. (Credit: Lancaster County District Attorney/TikTok)
It all began when Claire Miller "repeatedly" and hysterically called the police, saying that "I stabbed my sister."
At that time, her parents were sleeping.
When police arrived at the Millers' house, they found Claire standing outside in the cold, next to "what appeared to be blood on the snow near the driveway."
Reportedly, Claire had been attempting to wash the blood of her sister off her hands with the snow. The police report also suggested that Claire had blood stains on her pants.
Seeing the police, Claire directed them into the house, and into her sister's room.
There, at the crime scene, the police found Helen's face covered by a pillow with bloodstains on it.
When they removed the pillow, they "found a large knife in Helen's neck, just above her chest."
"Helen was lying on her back with her hands up near her head," Claire's affidavit reported that.
Attempts to save Helen's life were unsuccessful, and she was pronounced dead at 4:13 a.m.
The coroner's autopsy report from the Lancaster County coroner's office confirmed that the cause of her death was multiple stab wounds.
The warrant stated that the authorities took some items from the house, including knives, a stuffed rabbit toy, and a whiteboard that listed the 14-year-old's chores.
Claire's blue T-shirt with a cat face and gray, black, and white checkered pajama pants were also collected by the police. DNA swabs were also collected all around Helen's room.
In the aftermath of Helen's death, local officials in Lancaster County have expressed shock and sadness about the nature of the crime.
"When I heard about this I was almost instantly upset about it myself over the details that had been related to me." Tom Rudzinski, the Manheim Township Police Chief .
"I don't know that I have ever been a part of something that is quite as sad as this."
"The investigators are going to be asking those types of questions, conducting those interviews of everybody that was involved, and trying to determine a timeline [for what] would have led to this awful event," he added.
Following the news, many TikTok users visited the alleged account to understand Claire's motives, or at least do some amateurish detective work.
Some details were found.
For example, many videos among the roughly two-dozen that were uploaded, dealt with Claire's fondness of anime, a Japanese animation.
In one video, the Millers were shown, with Helen briefly seen in one of the clips, sitting on a wheelchair.
The last video uploaded to the account, was done a day before Helen's death.
In the shaky clip, Claire was seated, apparently lip-synching to a sexually graphic song. The words said: "My dad has to stop opening the conversation with 'this is just like the gay bar in Japan'".
Some of Claire Miller's TikTok posts, using the @spiritsandsuchconsulting account.
Following this, TikTok removed the account that many users believed was Claire's.
TikTok believes that the account violated the platform's Community Guidelines, which prohibit users who "promote or are engaged in violence."
Partly, this was because the account posted rants about Claire's father, as well as violent anime.
However, a TikTok spokesperson did not confirm whether the account really belonged to Claire.
While the account has been taken down, that didn't stop TikTok users to continue sharing her story with one another. The story also went viral on other platforms.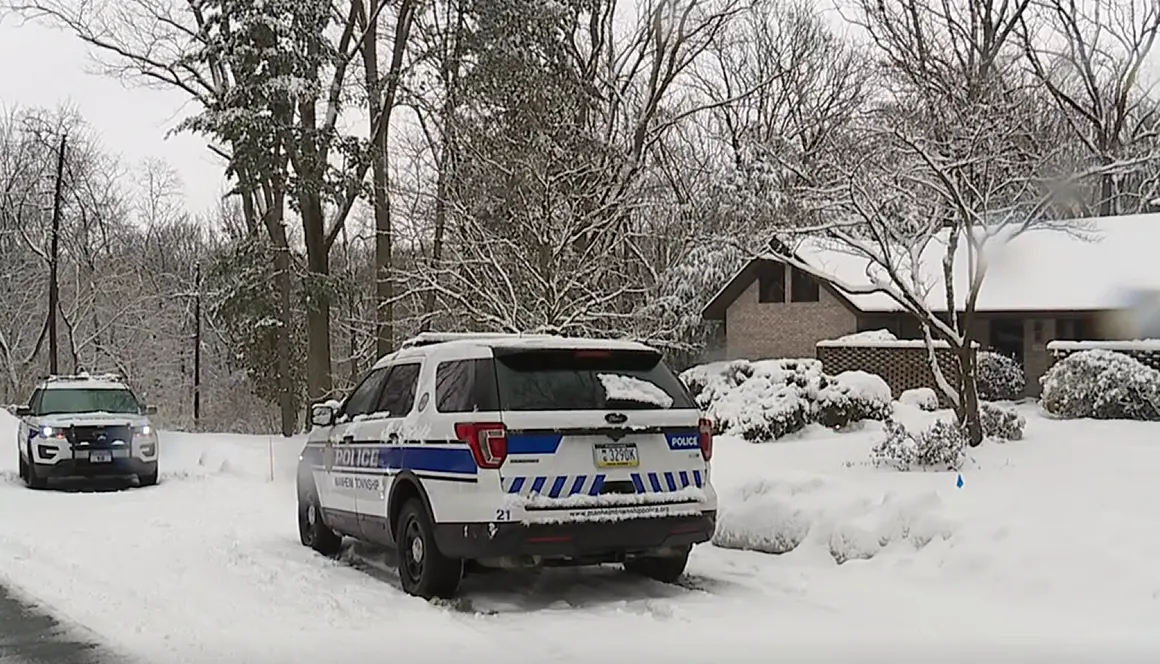 Police cars parked in front of the Millers' house. (Credit: WPMT FOX43)
Father Mark and mother Marie Miller were married in September of 1997.
The house they live in, was purchased in 2005, under Hellen Miller's name, for $495,000. The home ownership was eventually listed under an irrevocable trust in her name, because as a child with special needs, Mark and Marie used such trusts to secure benefits for Helen's future.
Cerebral palsy is a group of disorders that affect a person's ability to move, maintain balance and posture. Because it is caused by abnormal brain development, there is no cure for cerebral palsy, only treatments.
As for Claire, she attended the Lancaster Country Day School, private school with about 550 students, located about a half-mile walk from the Millers' home at the end of Clayton Road.
Her friends described her as a good student, and also friendly. They were surprised, and expressed shock when they heard that Claire has been charged in the killing. One said them was reportedly emotionally affected by this.
Claire was the Co-President of her ninth-grade class, and was part of her class' field hockey team.
She had been a strong student, according to a school spokeswoman, who said that the school community was also in shock.
"We were so saddened to learn of Helen's tragic and unexpected passing," the Miller's school district said in a statement. "Our hearts go out to the family and friends of the Miller family. This is a devastating tragedy."
Initially, Claire has given no motive.
But for the prosecutors, they say that they don't have to see a motive to prove someone has committed a crime.
Pennsylvania is among some other states in the U.S. where the burden of proof is automatically placed on a juvenile who has been charged with murder.
In police custody, held in a private cell at Lancaster County Prison, Claire is being charged as an adult because Pennsylvania does not consider homicide a delinquent act, explained a web page from Lancaster County District Attorney's Office that is charged with this case.
Because of this, she was denied bail, and her name and mugshot can be released to the public.
It should be noted that officers have written in the application for the search warrant, that they would be looking for Claire's mobile phone, which could potentially answer questions about what led to the murder. However, no phone was listed as among the items seized by police.
Further reading: Teenager Allegedly Murdered His Neighbor For The Sake Of TikTok Content